Kumpula Botanic Garden opens!
FINLAND
18 June 2009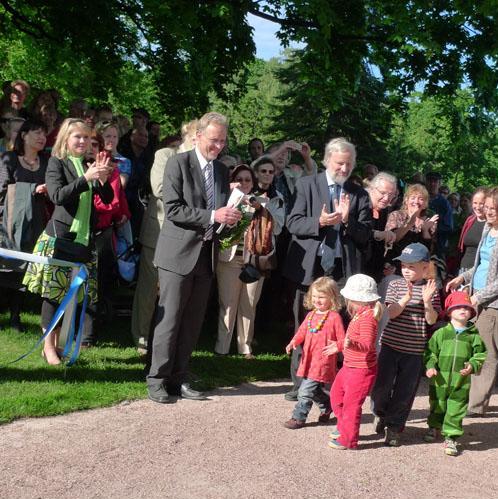 The first visitors!
The newly renovated Kumpula Botanic Garden in Helsinki, Finland, is now looking beautiful and is open to the public after many years of hard work. The first visitors arrived last week to mark the opening ceremony, which coincided with the Fifth EuroGard Congress. We'll be publishing details of the proceedings and Congress Resolutions here over the coming weeks.
Finland's Minister for the Environment, Ms. Henna Virkkunen, was there to open the new garden, noting that; "The Botanic Garden is a manifestation not only of the University's teaching and research functions, but also of the obligation of interacting with society at large. The Garden, alive and tranquil, serves citizens as a source of knowledge, inspiration, and aesthetics from the dawn of life to the dusk."
The first plantings in the 6 hectare Kumpula Botanic Garden took place in 1987. Over the following years the garden grew wild but was still a valuable scientific collection - inventories in 2007 revealed 2,051 documented plant origins. Now, the origin of each plant grown in the garden is known exactly and all the plants in the geographical sections were collected from the wild following best practice. This allows for robust scientific research, such as genetic studies, and makes the accessions of particular importance for conservation. Every plant carries a sign that indicates the origin, even when the plants are grown in pots.
Renovations, planned by landscape architect Gretel Hemgård, are now almost complete:
The garden pond had suffered from silting and eutrophication. The most valuable plants were moved from the pond and its shores. The silt was removed in winter in 2008, and replantings will take place this summer.

Poor soil was removed and a huge amount of mulch and woodchips was used as new substrate: in 2007 alone over 1500 cubic metres. That amounts to a pile that is 10 x 15 x 10 m and is equal to 150 truck loads!

Trees and shrubs were thinned out and many new plants propagated.

Some 10,000 plants were removed from the ground, put into pots and finally replanted in the garden!

Many gardeners and biology students from the University of Helsinki were involved in the work.
| | |
| --- | --- |
| | |
| photo: P.Havas-Matilainen | photo: M.Heikkinen |
For more information about the Kumpula Botanic Garden contact Dr. Leif Shulman leif.schulman@helsinki.fi