In Darwin's anniversary year, flora of Galapagos gets a boost
1 June 2009
Invasive alien species are one of the biggest threats to biodiversity in Galapagos. Over 1000 plant and animal species have been introduced by humans since the islands were first colonized, either intentionally or accidentally. Of the 800 introduced plants, more than 50% were introduced because of their ornamental value, and have been planted in gardens throughout the islands; some of these species have already become highly invasive, others have the potential to do so, particularly in light of climate change.
In the fight against against invasive species we not only need to control species that are already a problem, but we also need to prevent new invasions occurring. One way to help is to reduce the number of invasive exotic species being planted as ornamentals.
Galapagos has a diverse and beautiful native flora, comprising 500 native species of which 180 are found nowhere else in the world. Many of the unique species are suitable for gardens, with attractive foliage, flowers and fruit.
The ¨Siémbrame en tu jardín¨ project was initiated in 2007 and is part of a larger program on the prevention, control and eradication of introduced species run by the Charles Darwin Foundation. Rather than providing another set of rules and regulations, the project provides positive leadership for the conservation and protection of the islands, by employing a team of local people who run several nurseries and care for gardens, encouraging people to help the sustainable development of Galapagos by replacing introduced garden plants with native and endemic species in their gardens.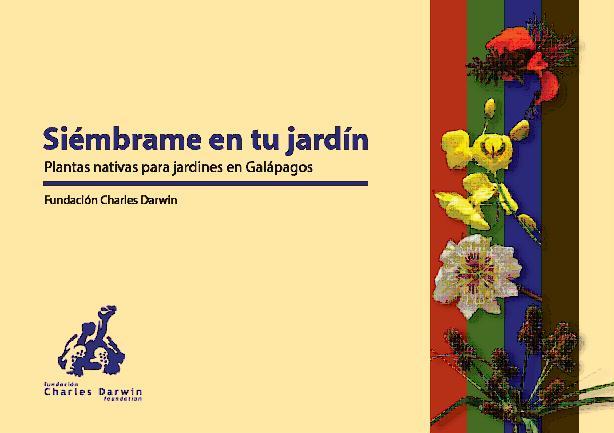 The newest product of the project is a beautifully illustrated guide book on the native plants of Galapagos that are suitable for gardens. The book is the first manual in Spanish on plants in Galapagos, and the first book written specifically for the community to help inspire them in the use of native species in their gardens.
The book provides simple information about each plant species, such as whether it is native or endemic, where it can be found, whether it grows on the coast or in the highlands, its growth form, and its use in the garden. Each species is richly illustrated with photos for the easy identification of the plant, and to inspire the reader to chose from the varied flora of Galapagos for their garden.