Blaze destroys Santa Barbara Botanic Garden
CALIFORNIA
8 May 2009
For several nights the Jesusita Fire has been raging in Santa Barbara, California. 5,000 homes have been evacuated and 18,000 people are affected. The rapidly moving blaze has burned nearly 3,000 acres so far.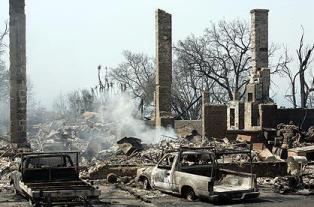 Image: Lawrence K. Ho/Los Angeles Times
The Santa Barbara Botanic Garden (SBBG) has also sustained significant damage from the fire. As of the morning of May 6th, several structures were lost including the Director's home, a historic structure used by the horticulture staff for offices and staff and at least one lath-house. The century-old Gane House (pictured left), which was to be restored and become SBBG administrative center was also engulfed by flames, leaving little more than three brick chimneys standing.
Lost inside were all the gardening tools, horticultural materials, the metal shop that made tags to identify plants, overstock of books published by the garden, and the office contents and computers of the head gardener and facilities maintenance man. Biofuel gardening trucks parked outside have also been destroyed.
Based on comments received from the Fire Department staff assigned to the Garden, other structures including the Library, Herbarium, and other staff offices appear to be ok but no one from the Garden has been permitted into the fire zone to make an inspection. It will be at least several days before anyone will be able to assess the condition of the Garden.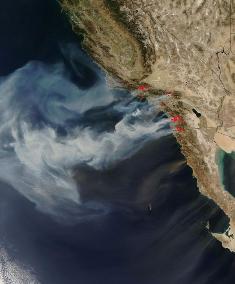 Image: NASA/MODIS Rapid Response
"Currently our phone system and email server are without power - it will not be possible to call by phone or to send an email to the sbbg.org address" said Dieter Wilken at SBBG.
"Obviously we're very heartbroken. It's a large, large loss for us," said Nancy Johnson, the garden's vice president of marketing and government relations. She also said the garden was saved by a decision last year to spend between $300,000 and $400,000 on six hydrants. "The firefighters told us that had those hydrants not been installed, they couldn't have saved the other buildings," she said.
The flames, seen from satellite on this NASA image, have been fanned by record temperatures and strong winds of up to 50mph (80km/h). Experts predicted that California would face a growing threat from wildfires because of climate change and development that has pushed homes further into woodlands.
If greenhouse gas emissions are not substantially reduced, keeping temperature rise below the dangerous threshold, California wildfires are predicted to increase by as much as 50%.