First certified African Blackwood heralds brighter future for rural Tanzanians
30 April 2009
Some of the world's poorest people have achieved international recognition for responsible forest management and a golden opportunity to lift themselves out of poverty through selling responsibly harvested timber for musical instruments.
Two communities in Tanzania, working through the Mpingo Conservation Project (MCP), have obtained the first certificate for community-managed natural forest in Africa. This landmark achievement will enable the communities to earn 250 times more from their forests – by managing them responsibly – than they have done previously. The certificate is awarded by the international body, the Forest Stewardship Council (FSC), which promotes responsible management of the world's forests.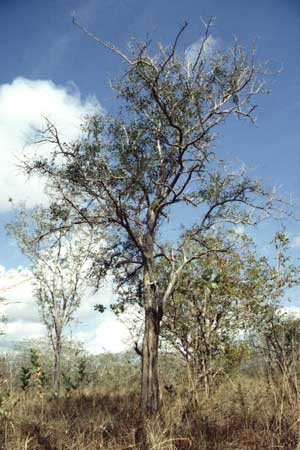 The main timber that will be harvested and sold internationally by the Tanzanian communities is African Blackwood (Dalbergia melanoxylon, also known as mpingo), a slow growing tree which is highly prized for making clarinets, oboes and bagpipes. The FSC certificate will enable communities to earn upwards of TSh 25,000/- (roughly $19) per log compared to 100/- ($0.08) they received before the MCP began working with them.
Under the system of Participatory Forest Management, which is enshrined in Tanzanian law, communities can take over ownership and control of their local forests from the government, allowing them to profit from timber sales, as long as they manage the forests sustainably. However, with illegal logging widespread, there is a need to differentiate timber coming from community forests from other sources if communities are to receive a fair price; the new FSC certificate does that.
A small collection of villages in Kilwa District, south-east Tanzania, have been working with the Mpingo Conservation Project since 2004 to achieve this historic first for African people, offering new hope for the twin goals of poverty alleviation and forest protection on the continent.
Mr Mwinyimkuu Awadhi, Chairman of Kikole village, comments: "Previously we just used blackwood without thought, but we have learnt that it is a valuable resource. Now we see that we can utilise our stocks to benefit us all as villagers."
Local farmer, Mwanaiba Ali Mbega (female), adds: "When we started this project we began to see the benefits that could arise from managing our forests. Now we have reached the stage of certification we are confident we are going to bring long term benefits that we will be able to pass on to our grand-children."
The first timber will be harvested by the villagers in May/June this year. The wood must then be properly dried, a process which takes at least one year, and it is expected that the first FSC-certified blackwood instruments will be available sometime in 2011.
In this time of global economic crisis, it is important to remember that even small consumer choices can make a huge difference to poor communities in the developing world, providing them with an opportunity for a hopeful and sustainable future.