Bald eagles hatch at Norfolk Botanical Garden!
USA
31 March 2009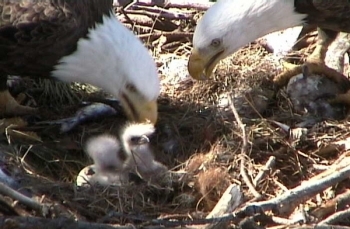 The story began in 2002 when a pair of eagles established a new territory at the Norfolk International Airport, built a nest there and produced 2 young. Unfortunately, in 2003 the male of the pair was struck by an aircraft and killed before eggs could be laid. Another male quickly moved into the territory and mated successfully with the surviving female. The pair fledged one young that year.
To protect human safety and preserve this breeding territory, the U.S. Fish and Wildlife Service, the Virginia Department of Game and Inland Fisheries, and the Center for Conservation Biology at William and Mary, in cooperation with the Airport, decided to remove the eagle nesting tree after the 2003 nesting season. It was hoped these two eagles would move to a nest which they had begun building in a safer location nearby.
The eagles had other ideas. They moved over to Norfolk Botanical Garden and built a new nest. This was actually a safer and better area, and plans were made with the Garden to develop an exclusion zone around the nest during each breeding season (December 15 – July 15).
The eagles, who mate for life, have been at the Garden ever since. This year, the final fledgeling in their brood of three hatched on March 25th. The rich habitat surrounding the Norfolk Botanical Garden is an excellent hunting ground for this experienced pair.
You can find out more and see the eagles and their young on this webcam.