New Zealand plants under increasing threat
NEW ZEALAND
25 March 2009
A survey of some 2357 kinds of native New Zealand plants carried out by the New Zealand Plant Conservation Network (NZPCN) and New Zealand Botanical Society has shown that six species of plant are now regarded as extinct and the number of threatened plant species has jumped almost 50 percent to 180 in the past five years.
The survey also reveals the number of plants regarded "At Risk" has risen from 499 to 651 during the same period.
Department of Conservation (DoC) scientist Peter de Lange, one of New Zealand's foremost botanists, says part of the big jump can be put down to scientists finding more and more new species of threatened plants.
But he says changing land use patterns especially intensive farming and draining wetlands, particularly in the drier eastern parts of the South Island, is also playing a role in the decline in some plants species.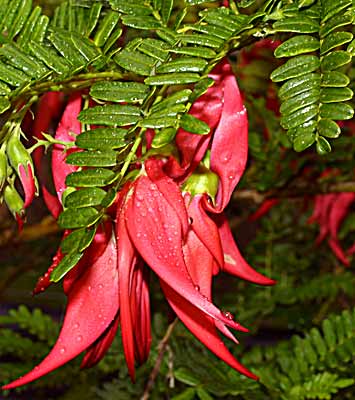 Some well known plants such as the garden favourite kaka beak (left), which is widely cultivated by nurseries, are at serious risk in the wild. One species of kaka beak, Clianthus puniceus, is down to just a single known wild plant, while the national population of its close relative Clianthus maximus has plummeted from 2000 plants in the wild 10 years ago to just over 150 found in the East Cape region. This latter species is only recorded in one botanic garden on our PlantSearch database.
"Wily goats and hungry hares are now eating kaka beak almost as fast as DOC staff can plant it out" de Lange says. "For kaka beak its future now rests on the dedication of a Te Araroa based DoC ranger and local people, especially school children, who have been planting the species along roadsides."
"In the past, New Zealanders were largely unaware of issues affecting plant conservation but pleading ignorance is no excuse now and for such iconic species as kaka beak, extinction in now inevitable unless immediate action is taken."
The survey also shows some significant successes in areas like the Chatham Islands where DoC staff, working with islanders, have successfully managed to bring four species back from the brink of extinction.
"The biggest success story from those islands has been the rescue of the unique Chatham Island sow-thistle (Embergeria grandifolia), a massive distant relative of puha that is well known to many New Zealanders."
"This shows what can be done when communities and conservationists work together."