Famous Amorphophalus titanum 'flowers' twice in Meise!
BELGIUM
5 September 2008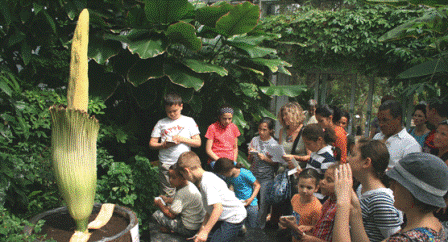 In early August Belgium celebrated a new first in botanical circles – the flowering of the famous Amorphophalus titanum at the National Botanic Garden in Meise.
This fantastic event is about to be repeated in the coming days when the second of the Garden's two plants uncurls its inflorescence.
The appearance of the world's largest – and smelliest – 'flower' has become an almost regular occurrence in some botanic gardens.
However, the first day of its three-day flowering period at Meise was greeted by 25 times the usual number of visitors to the garden all eager to see Belgium's first Titan Arum.
Altogether 8000 people flocked to see it during its three day spectacular, forcing the garden to stay open until midnight!
The second Titan Arum is due to open imminently. It currently stands at 180cm and is expected to reach 2m in height before flowering.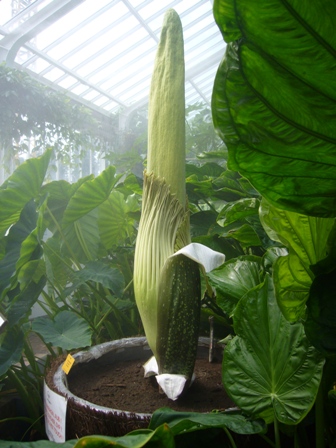 "We are greatly indebted to the University of Bonn Botanic Garden for the loan of these two plants in the form of tubers. It was pure luck that both flowered this year and without their advice and collaboration the Belgian public would not be enjoying these incredible 'flowers' twice within a month. Putting on a botanical spectacle for the public is one of the most important roles botanic gardens can play" said Curator for the indoor collections Dave Aplin.
The impact of these botanical events will go well beyond the flowering period of the plant as the intense media interest has encouraged new people to visit the garden where they can also experience one of the largest indoor collections of plants in Europe. The increase in revenue generated by the Titan Arum will be ploughed back into Meise's educational and scientific activities.
The predicted flowering date for the second Titan is the 6th or 7th of September. Click here to follow the latest developments at Meise.