New study predicts 1 in 5 of Germany's plant species could lose parts of their current range
GERMANY
14 August 2008
One in five of Germany's plant species could lose parts of their current range, a study by scientists at the Helmholtz Centre for Environmental Research (UFZ), the Potsdam Institute for Climate Impact Research (PIK) and the French Laboratoire d'Ecologie Alpine reveals.
Species distributions will be rearranged as a result of climate change and this could have a dramatic impact particularly on the vegetation in south-western and eastern Germany. The researchers have modelled and recorded how the ranges of a total of 845 European plant species will shift under three different future scenarios.
The study concluded that the impacts of climate change will result in local losses of flora. The reduction in the ranges of plants is a general trend, although some central and southern European species move in which were not previously recorded in Germany. The impacts will vary locally, with the greatest reduction in species richness likely to take place in north-eastern and south-western Germany. The effects in the simulations become greater as the temperature increases. With moderate warming of about 2.2 degrees Celsius, about seven percent of species will lose more than two-thirds of their current ranges. This increases to eleven percent at a warming of 2.9 degrees Celsius and twenty percent at 3.8 degrees Celsius. The fact that the extent of change increases disproportionately to the projected increase in temperature argues in favour of the European Union's stabilisation target of two degrees Celsius in order to protect biodiversity.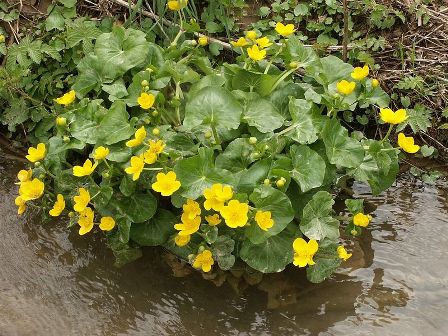 Caltha palustris (marsh marigold)
Many plant species could lose their niches in especially vulnerable habitats such as mountains or moors. Migrating species from southern Europe could not compensate for these losses in the studie's models. The marsh marigold (Caltha palustris) for example is one of the losers to climate change. The changes in the environmental conditions in the scenarios will result in this species disappearing locally from the low-lying areas of Brandenburg, Saxony-Anhalt and Saxony.
In contrast, the common walnut (Juglans regia), originally introduced north of the Alps by the Romans, would find more areas with suitable conditions and could extend into eastern Germany.
For more on the study follow this link.