Everett Children's Adventure Garden Celebrates 10 Years
8 August 2008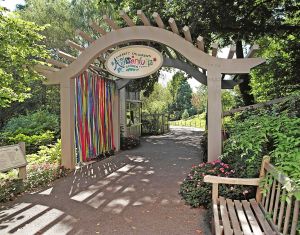 A magnificent pergola in the Everett Children's Garden


The Everett Children's Adventure Garden in New York's Botanical Garden has turned 10 years old. Opened in May 1998, becoming the first indoor-outdoor plant museum for children and adults in the United States. In the proceeding 10 years nearly 1.5 million children have visited the garden.

The 12 acre garden is especially designed to cater to children's educational needs with fun and interactive learning environments. The outdoor areas contain galleries looking at plants life cycles, what makes up plants, exploration of ecosystem and plant-animal interactions and the way the sun helps plants to grow. Indoors there is a lab that encourages exploration and observation.

The garden offers programmes for families and school groups. The family programmes are facilitated by teenage explainers. Around 150 teenagers are trained each year to act as explainers for the family programme. Many have gone on to higher positions in the programme and a number of these explainers have credited their experience with giving them the confidence to move into careers working with children. The school group programmes are ever changing, focusing on seasonal plant related topics. This year's programmes look at the growth of plants, the life cycle of butterflies, an investigation into flowers and the cycle of seeds. The programmes start for children as young as pre-kindergarten through to 5th grade.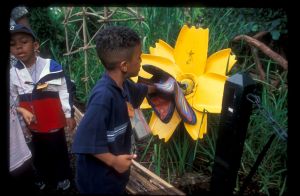 An interactive pollen mover exhibit, part of the hands on learning approach at Everett.

As well as providing learning experiences for youngsters, the Botanical Gardens also offer development programmes for educators. Classes are held on professional development, plant science and ecology and intensive week long Summer Institute courses in ecology and botanical science.

Leading into the anniversary celebrations for Darwin's Origin of Species a Darwin for Kids exhibition has been developed. The exhibition features a replica of the HMS Beagle, on which Darwin journeyed for five years, a recreation of his research laboratory and a timeline of his life. Activities such as creating an herbarium specimen and exploring bogs introduce the children to Darwin's work.

The future looks exciting for the Everett Gardens with major capital improvements in the pipeline. Additional teaching spaces are being developed, the Wild Wetland trail will get new interpretation signposting and a renovated trail and an all weather area for children to eat their lunch is planned.