The 9th Conference of the Parties to the Convention on Biological Diversity (CBD)
BONN, GERMANY
6 June 2008
The 9th CoP to the CBD: BGCI plays a part
The 9th CoP to the CBD was held in Bonn in Germany from 19th - 30th May 2008. BGCI was there, promoting its work and the key role of botanic gardens in conservation worldwide.
A BCGI stand was organised in partnership with the German Botanic Garden Association, where a wide range of BGCI publications and resources were on display (below).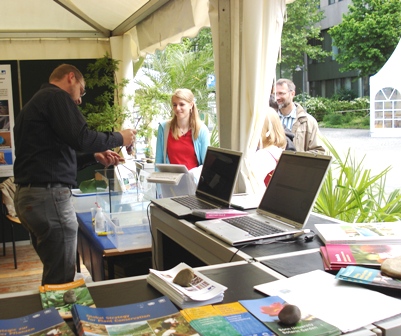 Our new report: 'Plants and change: which future?' was presented at a well-attended side-event and copies were widely distributed to conference delegates.
During the meeting itself, a number of countries thanked BGCI for providing support towards the implementation of the Global Strategy for Plant Conservation (GSPC) at the national level, and the role of botanic gardens in ensuring the conservation of threatened plants was widely acknowledged.
The GSPC itself underwent an in-depth review at the meeting. For the full story and outcomes click here.
Over the course of the two-week meeting lunch time tours in the Bonn Botanic Garden were offered to delegates, where new interpretation panels provide information on the role of the garden in implementing the various targets of the GPSC, such as this one (left) for Target 2: 'A preliminary assessment of the conservation status of all known plant species.'

Overall, the 9th CoP meeting was considered a success, establishing a major financing mechanism for protected areas as well as moving forward on issues such as fair sharing of genetic resources and the sustainable production of biofuels.