National Botanic Gardens Day Celebrations in Mexico
16 May 2008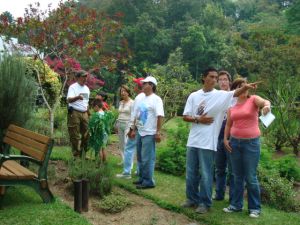 The themed guided tours were enjoyed by everyone
Sustainable plant culture was the theme for this year's National Botanic Gardens Day, held at the Francisco Javier Clavijero Botanic Garden in Xalapa, Mexico. During the course of the three day event, from 25 to 27 of April, more than 2,000 people attended the wide range of events, including activities dealing with wild plants and activities using art and play to highlight the relationships between humans and the natural environment. Dr. Carlos Fragoso, researcher and Secretary of the INECOL (Institute of Ecology), opened the celebration. In a brief and well attended ceremony, he highlighted the enthusiastic involvement of visiting schools and the opportunity that the Clavijero Botanic Garden represents as a base for environmental learning.

The popular science section attracted a large group of high school and university students. It was initiated by Adrian Reuter, representative in Mexico of TRAFFIC-North America, who gave a lecture entitled 'Ornaments, Pets and Rare Plants. 'Global Trade in Wildlife'. Dr. Andrew Vovides gave an illuminating talk on the theme of cycads, entitled 'Living Fossils Endangered'. These plants date back to the Jurassic period and are becoming increasingly threatened by theft and habitat destruction in Mexico.

An excellent series of medicinal plants workshops offered for children, teenagers and adults were led by Irma Hernandez, a collaborative nurse with many years' experience of working with rural and urban communities. Together with her assistants, Irma led the attendees through the art of preparing mixtures of different herbs for medicinal uses. Another workshop was entitled 'De tal palo tal astilla', (which in English means, 'like father like son'), focusing on the structure and anatomy of wood.

One of the highlights of the weekend was the thematic guided tours. The tours were led by the garden's technicians who focused on the history of the living plant collections. They paid particular attention to some of the unjustly neglected rare plants housed by the gardens. One of these tours, led by Carlos Iglesias, visited the greenhouses, where the staff explained their unseen work with soils, nurseries, research, and curation.

A group of INECOL's researchers, supported by an enthusiastic group of academic technicians and graduate students, mounted a remarkably successful exhibition of objects, instruments and agencies related to their research. The questions from children, teenagers and teachers showed the interest in their work. The researchers were very gratified to meet the people who came and engaged with them on their research; exchanging questions, answers, anecdotes, information, experiences and knowledge on cloud forest's beetles, bats, ferns, in vitro propagated plants, saprophytic [fungi, bacteria and protisti) beings and environmental processes.

The Contest of Potted Plants was held to promote the culture of sustainability in plant use. Entrants shared their experiences on growing and caring for their plants and presented them for judging. Two young students eventually took the top two prizes and with it prizes that promoted the hobby of sustainable horticulture. It was heartening to see the vigour that was shown by the young entrants in caring for and raising local flora.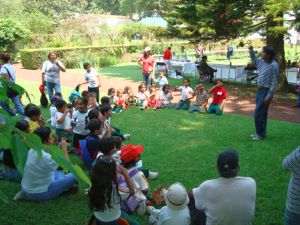 During the weekend there were plenty of activities for children

There was also a strong artistic side to the celebrations. Many documentaries were screened over the weekend. Films such as 'The Private Life of Plants', and Hayao Miyazaki's cartoon 'My neighbour Totoro'. A group of storytellers conveyed messages of interest, knowledge and love towards nature and talked of a more spiritual connection between human and plant. There was a drawing and painting workshop run by artist Israel Barron, a concert by the School of Arts Guitar Orchestra and a dance performance by the School of Arts Katarsis dance group.



The celebration was also a forum for regional organic markets and artisans of Xalapa and Coatepec, who presented and offered attendees a variety of foodstuffs, clay and wire handicrafts. The National Botanic Gardens Day coincided with the World Day of Tai Chi, so many people gathered at the Botanic Clavijero Garden for demonstrations of this art, led by recognized teachers.

Overall a very successful weekend was had by all. The great attendance, especially by young people, was very encouraging. As was the holistic community approach that we are all connected to and rely on plants and the key role they play in a sustainable society.