New Exhibit Shares the Story of How Plants Use Sugar to Build Life
22 April 2008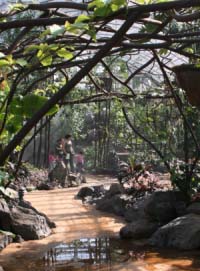 'Sugar from the Sun' plunges visitors intothe life of the Conservatory's tropical collection

'Sugar from the Sun' is a new permanent exhibit at the Garfield Park Conservatory in Chicago. This ground-breaking exhibit immerses visitors in the world of plants focusing on how they take in and use air, water and sunlight to make sugar-energy inside every leaf. The living 6,240-square-foot exhibit tells the story of how plants grow and ultimately provide everything we need to live.


"The Conservatory is an unusual blend of museum, garden, science center and cultural institution, which makes us uniquely positioned to present this difficult topic in novel and experiential ways that are interesting to visitors of all ages" said David Snyder, Director of Educational Exhibits, Garfield Park Conservatory Alliance. "When you step into 'Sugar from the Sun,' you won't see strong scientific words, traditional museum signage or an overwhelming amount of language. What you will experience are four exotic botanical environments that instill wonder and provoke conversations about the importance of plants to all life on earth."


The non-linear layout of 'Sugar from the Sun' provides multiple navigational possibilities, echoing the experience of meandering through nature. Pathways bend and wind through the sunlight, water, air and sugar sections of the exhibit, providing new "aha" moments around each corner. Sculptural highlights include water features, 200 tons of hand-picked stones and 3,900 linear feet of bent steel which interacts with and supports the lush green foliage of 1,850 plants. Interpretative features include sound that moves along pathways using a new technology, lighting that reacts to changing natural light conditions, illuminated signage integrated into exhibit features and plantings, and a decorative floor treatment that replicates natural environments.


'Sugar from the Sun' is made possible in part by a $1.65 million grant from the National Science Foundation. Admission is free. For more information please visit www.garfieldconservatory.org.