Blazing a trail in Lyon Botanic Garden
11 April 2008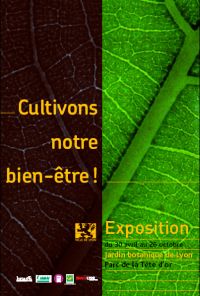 Cultivating Well-being poster announcing five new trails at Lyon Botanic Garden

Five exciting new trails will be on offer at Lyon Botanic Garden, France, from 30 April. Focusing on the use of plants in our everyday lives, the 'Cultivating Well-being' trails will take people inside the magnificent glasshouses as well as out doors in the botanic garden. The aim of the trails is to show people how irreplaceable plants are in our everyday lives and to highlight the benefits plants bring us. For example, during the summer months the public will be invited to smell plants selected for their aromatic, beneficial or medicinal properties, such as the foxglove (Digitalis spp) which since the 18th Century has been used as a treatment for heart disease. And, throughout the Golden Head Park, in which Lyon Botanic Garden is located, photos of plants will be displayed to illustrate the therapeutic use of plants in organic cosmetics.

The trails have been created by Lyon Botanic Garden in collaboration with its scientific partners Botanic, Aldivia, B com Bio, Le Grand Lyon, l'Ecole Lyonnaise des Plantes Médicinales and its art partner Catherine Blanchard.

For more information please visit the website www.jardin-botanique-lyon.com where you will also find six short videos about the different aspects of the botanic garden, including the research laboratory, the herbarium and the seed bank.