International Year of the Potato -2008
3 April 2008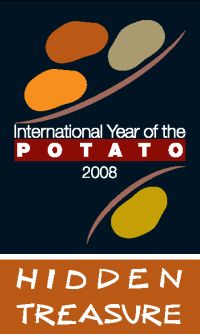 International Year of the Potato logo

Over the next two decades, the world's population is expected to grow on average by more than 100 million people a year. More than 95 percent of that increase will occur in the developing countries, where pressure on land and water is already intense. A key challenge facing the international community is, therefore, to ensure food security for present and future generations, while protecting the natural resource base on which we all depend. The potato will be an important part of efforts to meet those challenges.

Backed by an arresting website, the United Nations' International Year of The Potato – 2008 has been launched to draw attention to the importance of the potato to the global agricultural economy. In the context of increased demand for arable land and the continued prevalence of malnutrition, the potato requires a relatively low acreage per yield while providing more nutrition than other staples such rice, corn and wheat. The website states that a single baking potato provides half the daily Vitamin C requirement. No surprise, then, that potato cultivation is exceeding the production of many other major food commodities in developing counties and in Asia, in particular.

The website contains a downloadable brochure introducing the International Year of the Potato (available in six languages – Arabic, Chinese, English, French, Russian and Spanish) and an informative video explaining the significance of the potato and the contribution it can make to achieving the Millenium Development Goals, particularly goal number one which is to reduce by half the number of people living in extreme poverty and hunger.