BGJournal: Conserving Forest Diversity
19 March 2008
The latest issue of BGJournal, the worldwide journal on plant conservation for botanic gardens, has just been sent to BGCI members.
This issue is a Special Edition supported by the Rufford Foundation. This means we are able to make it available free in electronic format at the time of publication. Normally we publish BGJournal online one year after it is printed.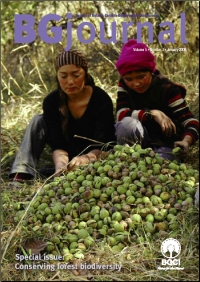 Conserving Forest Diversity
Deforestation is now recognised as the second leading contributor of carbon emissions worldwide, after the burning of fossil fuels.
Conversely the protection of forests is increasingly seen as a major response in mitigating the impacts of climate change – a fact recognised recently at the political level at the UNFCC Conference in Bali in December 2007.
But, of course, the world's forests are so much more than just carbon sinks. They are major repositories for biodiversity – tropical forests alone, which cover six percent of the earth's surface, harbour over 50 percent of all known species.
These same forests provide essential livelihood resources for millions of people who live within them or in surrounding areas. They are also a major source of income for governments through timber revenues. Added to this, forests are crucial in regulating the world's water supplies. Despite all these values, global deforestation continues.
Botanic gardens have a major role to play in conserving forest biodiversity. Work to document and catalogue the flora of forest areas is ongoing with support from botanic gardens around the world.
Management and restoration of forests are key activities for a range of gardens and education and raising awareness of the values and threats to forests are undertaken by botanic gardens worldwide.

This issue of BGJournal explores how botanic gardens are conserveing these essential forest resources (PDF 15MB).

Your Own Copy of BGJournal
BGJournal is sent to BGCI Members along with our other regular publications, Cuttings and Roots. BGCI Members also benefit from discounts on events and publications, and from being part of the world's largest plant conservation network.
Find out more about BGCI Membership