Celebrations for Biodiversity in Nepal
NEPAL
10 March 2008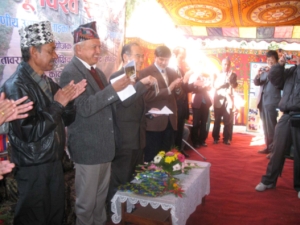 Postcards and other educational materials were launched
during the closing ceremony
Image courtesy CENEED
The Centre for Nepal Environmental and Educational Development (CENEED) has been running a three-pronged project for the conservation of biodiversity by environmental education to all types of people. The program has come to a conclusion in December 2007 with a ceremony to celebrate its achievements.
The CENEED centre has established Swayambhu Environmental Park at the premises of Swayambhu World Heritage, one of the world heritage sites designated by UNESCO in 1978 where CENEED developed this park with the cooperation of CENEED Support Group in Japan. The JICA support was one of several contributions to the three-year program that the centre had mobilized in Nepal since its establishment in 1993.
This centre is working for the 38 hectare of forested land covered by the Swayambhu World Heritage where there are more than 400 species of plants, 95 species of beetles, 68 species of butterflies, 11 species of animals and 98 species of birds recorded at the time of writing.
CENEED has a slogan "to make greenery everywhere by using indigenous species of tree and other categories of plants and conserve the heritage for the future." To achieve this the centre is launching an environmental education program at various occassions in the Swayambhu park.
Distinguished Guests Commend Biodiversity Conservation and Education Efforts

In December 17, CENEED Nepal held a closing ceremony of the three year JICA Project for the improvement of Swayambhu Environmental Park and Environmental Education.
This program by chaired by the President of CENEED Dr. Keshab Shrestha. The chief Guest was Prof. Dr. Madhav Sharama of Tribhuvan University, Nepal.
Other important Guests were
His Excellency Mr. Tatsuo Mizuno of Japan,

Mr. Noriaki Niwa, JICA Nepal Resident Representative,

Mr. Surya Lal Amatya ( Registrar),

Prof. Dr. Keshar Jung Rayamajhi (Chairman of University Service Commission),

Prof. Dr. B. N. Upreti (Dean of Science and Technology)

Prof. Dr. Dilip Subba (member Secretary of nepal Academy of Science and Technology),

Mr. Tirtha Narayan Manandhar ( Chairman of Swaymbhu Management and Conservation),

Prof. Dr. Shozo Shibata (Coordinator of JICA Project),

Ms. Yukiko Matsuo ( Secretary of CENEED Support Group, Japan).

More than 200 guests attended the event.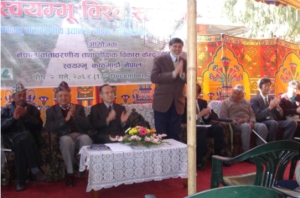 Chief Guest, second from left VC Prof. Dr. Madhav Sharma,
Japanese Ambassador Mr. Tatsuo Mizuno,
Standing is the Dean of IOST Prof. Dr. B.N. Upreti

Image courtesy CENEED

Chief Guest Vice-Chancellor Dr. Sharma expressed his satisfaction with the development of Swayambhu Environmental Park at the premises of Natural History Museum which served the education program of both University and CENEED with the planting of various Nepalese Plants, medicinal and other useful plants at the garden. He added that the University will look forward to future programs at the SEP.
Mr. Tatsuo Mizuno, Ambassador of Japan to Nepal expressed the view that such a park in the middle of a metropolitan city like Kathmandu is very important. Even more importantly, Nepal is rich in biodiversity and the beauty of the country is only witnessed by conserving such sites, where people of all kinds, including tourists, can get to know the country by observing nature close-up.
Mr. Niwa emphasised the importance of the youth, who can both benefit from and contribute more to nature conservation for a better world in the context of global warming, presenting a threat of concern to all.
Prof. Shibata expressed his view that environmental education is very useful for awakening the people and encourages them to work for a better future for their children.
Mr. Mahendra Guvaju, Main Priest and General Secretary of Federation of Swayambhu Management and Conservation highlighted the activities of CENEED and highlighted the importance for conservation of the religious forests of world heritage, where more than 27 type species of plants were discovered in 1802-03 by Buchanan-Hamilton, showing the importance of Swayambhu forest.
He also expressed his opinion that the federation will work closely with CENEED to protect the forested area of Swayambhu. For this purpose federation has already lauch various program including the management of public areas for cultural and religious activities in the heritage site where CENEED has already established a Park for the conservation of native species of Nepal.
At the event, postcards of birds, beetles and plants native to the site, and a book entitled Swayambhu Environmental Education were released as a part of the education centre.
Dr. Keshab Shrestha informed the gathering that the park now housed many important and useful tree and medicinal plants planted by foreign dignitaries, social worker, students, political leaders and public on various occasions, and now the garden has become a symbol of friendship and peace for nature conservation and hopes to launch more programs in the future.
Twelve Japanese delegates were also among the participants in the program. Mrs. Pusp Keshari Shrestha, Mr. Surya Mulmi presented the report of JICA project and other activities.
Many media highlighted the program, in the local daily newspaper and television also covered the news of Swayambhu garden as a new place for nature conservation and education in capital city of Nepal.
Local Youths Benefit from Positive Attention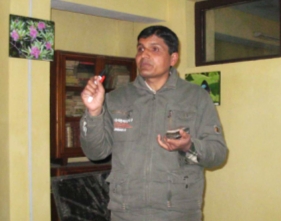 Lecturer Mr. Kedar Karki at the Education Program
for Drug Addicted Youth at SEP
Image courtesy CENEED

On Dec 31, another educational program was organized at SEP. This program was targeted to the youth of the local surrounding who have drug addiction problems. 14 youths were there in attendance.
CENEED and experts from New Hope Rehabilitation Centre (Mr. Kedar Karki) and Youth Federation for World Peace-Nepal (Mr. Saroj Khanal and Ms. Jinta Nakarmi) were invited as guest lecturers. A live interaction was held between the lecturers and the participants. All expressed their view that they were now encouraged to change their ways and live like responsible citizens.
They also expressed the views that Swayambhu Environmental Park has given them the direction to live healthy lives with future activities to contribute to society.
BGCI would like to thank Dr Keshab Shrestha for contributing this article.