Virtual Field Trips Link Students and Plants Further Afield
CANADA
15 January 2008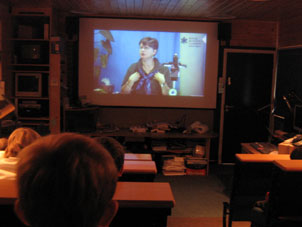 Students in England participate in a
video conference with RBG, Hamilton, Canada
Technology is taking Royal Botanical Gardens in Hamilton, Canada, far beyond its boundaries. A new Outreach programme is using interactive videoconferencing technology to bring students to the Gardens through virtual field trips (VFT).
Through the programmes, staff encourage environmental stewardship by providing meaning and diverse learning experiences that connect people with the plant world and help them to understand the crucial role that plants play in sustaining and enhancing our lives and the environment. This technology allows RBG staff to connect with interested groups, schools and collaborative partners all around Ontario, across Canada and beyond.
Outreach Education Coordinator Karin Davidson-Taylor directs the students through an engaging, highly interactive 35 to 40 minute long lesson. She is able to easily move from live interactive presentation to computer assisted audiovisual materials, microscopic views of plant parts and more. The students see and talk to her, in real time, even though they may be separated by thousands of kilometres. Whether it's Good Things Come in Trees for primary students or Plant Adaptations: Mediterranean Biome for high schools, these programs are taking RBG into new places from coast to coast to coast, and beyond.
Royal Botanical Gardens is located between Hamilton and Burlington, Ontario. It is Canada's largest botanical garden, covering 1,100 hectares (2,700 acres) of forest, meadow, significant wetlands (and associated marsh restoration programs), Carolinian forest, and Niagara Escarpment Biosphere Reserve, along with 5 separate cultivated garden areas.

Funded with the support of Ontario's Trillium Foundation, this programme was launched in mid-April 2007. Check out http://www.rbg.ca/pages/evirtualfieldtrips.html for programme updates, details, or contact kdavidsontaylor@rbg.ca.