Andean Bamboo Living Collections for Urban Ecuador
ANDES
7 January 2008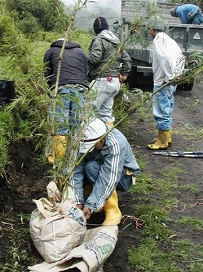 Bambúes de las Américas or BOTA, is collaborating on an innovative educational project to conserve the diversity of Andean bamboos and their mountain habitats in Ecuador.
Dr. Margaret Stern, the project leader, developed a proposal to establish a living collection of native Andean bamboos in two highly visited urban parks in the city of Quito, Ecuador.
Local Inspiration for Education
A living bamboo collection, like a botanical garden, is a way to educate the public about the diversity of native bamboos, the potential economic and environmental roles of bamboo, and the need to manage and conserve native bamboos and their natural habitats. The City of Quito Parks Department, financed through a percentage of residents' income tax, has pledged their collaboration on all aspects of the project and the long-term maintenance of the bamboo collection.
Native Diversity is Little Known
Most Ecuadorians recognize the native timber bamboo "caña guadua" (Guadua angustifolia) of historical importance in the coastal region, and ornamental Asian bamboos that adorn farms, gardens and shopping malls throughout the country. But few Ecuadorians know about the high diversity and ecological importance of native bamboos found in Andean forests and páramos (high humid grasslands), even though they may drive by mountainsides dominated by cascading bamboos in the genus Chusquea or upper watersheds covered with stands of Neurolepis.
Planting Bamboo, Growing Ideas

The process of establishing a living botanical collection begins with replanting and beautifying a park environment with a display that includes educational information in sites that are visited by a large public audience.
In this project, the bamboos will be displayed in association with other native species to best resemble a natural montane forest environment on a small scale. Bamboos will be planted on slopes to demonstrate their natural ecological role to provide soil protection, erosion control, landslide prevention as well as their potential use in environmental restoration.
Capacity Building for Parks Personnel

The project began in December 2007 with the first collection trip to Lloa on the flanks of the Guagua Pichincha volcano. Dr. Stern, two Ecuadorian foresters and a group of young park employees collected more than 30 plant specimens as root balls and vegetative cuttings, that were brought back to the two park nurseries in Quito.
Following field collection, the park staff will carry out propagation trials in nurseries and prepare the plants for installation in the landscape. Training city parks personnel to collect and organize data about plant collections, set up experimental propagation trials, and replant bamboo in definitive sites are all part of the project. Final sites within the parks for nursery plants will be based on the condition of soils, water availability, fire protection, role for landscape restoration and high visibility to the public.
Educational materials about the distribution, diversity, biology, use, management and conservation of native Andean bamboos will be prepared for the general public. This information will be graphically and attractively displayed alongside the live collection. As well, city park personnel will receive training to give guided tours to school children and adult visitors.
Key Players
The yearlong project includes collaboration between BOTA, a project of the American Bamboo Society, the Missouri Botanical Garden (MOBOT) in collaboration of the National Herbarium of Ecuador, and the City of Quito Parks Department. However, more help is needed in preparing educational material. The collaborators also thank Patti and Louis Snitzer for a generous personal donation.
By Dr. Margaret Stern and Gib Cooper
January 2008