New Plant Education Website Launched
14 December 2007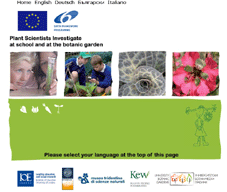 web page

A new resource 'Plant Scientists Investigate...' is launched this December. The materials are currently available as a free downloadable set of activities and information from the project website www.plantscafe.net and are available in 4 languages. The resource will also shortly be available in printed version and CDRom.

This resource is aimed at 9-11 year old children (UK Key stage 2) - but contains material that can be easily adapted for a range of abilities and levels. The material includes 44 modules - each with teaching sequences, equipment lists, teacher advisory notes, powerpoints, films and images for use in the class (and whiteboard friendly) and revolves around four key topics: Food, Plants and Art, Conservation and Experiments about Plant Growth.

The material has been developed, trialed and produced by a consortium of four botanic gardens in Europe - Innsbruck (Austria), Trento (Italy), Sofia (Bulgaria), the Royal Botanic Gardens, Kew (UK) and the Institute of Education in London - the latter were key in leading the team on the pedagogical approach.

The resource offers a range of interesting ways into plant science, including mysteries, investigation and evidence work, role-play, drama, games and hands on experimentation. The activities are intended to be carried out in and around the school site, but also incorporate visits to a local botanic garden.

The resource has been developed through a collaborative EU project ( Plant Science Gardens, PSG). The project sought to encourage and enable primary age schoolchildren across Europe, in particular those in the four project partner countries, to use an enquiry based approach to science. Focussing on plants, the new educational resources have been produced to raise awareness about the important role of plants, their habitats and the need for their conservation offering a hands-on/brains-on and innovative way to work within these themes.

The resources also seek to enhance the interaction between schools and their local botanic garden or nearby natural resource area, as well as better communication and interaction between botanic garden educators across Europe.

The project was an EU 6th Framework project.

This material is freely available. Anyone wanting further information, or to know about botanic garden support for the project, should contact Gail Bromley at Kew Gardens.