World's First Carbon Neutral Glasshouse
UK
30 November 2007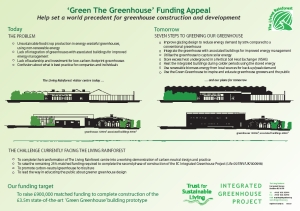 The Living Rainforest, near Newbury in the UK, is launching a search for green corporate partners to help build the world's first zero-carbon rainforest glasshouse.
Unlike other rainforest visitor centres around the world, The Living Rainforest's state-of-the-art building will be heated year-round with solar energy, harvested in the glasshouse and stored underground. Sunshine will be used instead of CO2-polluting fossil fuels, which add to climate change. The design has been developed with the project's technical partners, Wageningen University, the Netherlands' leading horticultural research university, and TV Energy, the renewable energy experts.
Glasshouses of the Future

The cutting-edge design will transform the way food, flowers and other crops are grown in glasshouses across Europe, by dramatically reducing dependence on expensive, CO2-polluting fossil fuels. "Low-carbon design will alter irreversibly the way that glasshouses are built in the future and point the way to a sustainable model of food production," says Living Rainforest director and project leader Karl Hansen.
Recent hikes in energy prices are forcing growers and builders to look for cheaper, greener alternatives. In response, a conference series next Spring at The Living Rainforest will showcase new environmental technologies and greener food and produce choices.
The green glasshouse will give The Living Rainforest a third exhibition building for its display of over 650 rare and endangered animal and plant species. The building is also expected to provide the centre's resident Goeldi's Monkeys with a spacious new 'free-range' home.
Can You Help?
The project has secured about 80% of the funding required, including over £1.5m from the European Commission. But for the project to go ahead, the centre still needs to raise at least £600,000 by April 2008. The project represents an opportunity for a corporate sponsor to be associated with a high-profile green energy and food project. The partner will benefit from The Living Rainforest's unique facilities for corporate events and have an opportunity to showcase their environmental R&D to 70,000+ schoolchildren and other visitors annually.
The eco-centre is inviting potential green partners to make contact via email: enquiries@livingrainforest.org; telephone: +44 (0)1635 202444 x13, or post: The Living Rainforest, Hampstead Norreys, near Newbury, Berkshire, RG18 0TN.
More information is avaliable on The Living Rainforest website, or download the PDF about the project.