Biodiversity or Bust for UK educators
28 November 2007
The National Botanic Garden of Wales provided a stunning setting for the annual conference of the UK's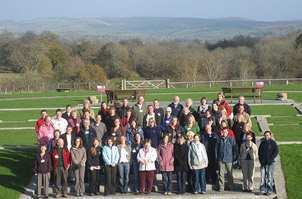 Participants at BGEN's 2007 annual conference

Botanic Gardes Education Network. This year's conference, which took place from 7-9 November, focused on the Global Strategy for Plant Conservation - bringing educators up-to-speed on what's happening in the UK with each of the targets and examining how BGEN could support their implementation. The conference was attended by sixty three delegates, representing 24 organisations throughout the UK and consisted of six excellent plenary presentations and nine interactive workshops.

Each plenary examined an objective of the GSPC, discussing how organisations are working towards their achievement, future challenges and opportunities up to and beyond 2010. Workshop topics included Food Security, Sustainable Procurement, Organic Gardening, Invasive Species, Creative Conservation, Building Sustainability into an Organisation, Native Flora, Climate Change and Implementing the GSPC through Education. Details about the programmes and outcomes of each of the workshops can be found on the BGEN website www.bgen.org.uk and the Plants2010 website www.plants2010.org.

A very useful session held every year at the conference is the 'soap box' session. Participants have between three to five minutes to share any new education programme or initiative with other BGEN members. A host of new exciting programmes and activities include:

BGEN training workshop - Back to Basics, introducing participants to the basics of running a schools education programme. The training day will be run at three venues on the following dates:
February 26th - venue (tbc)
March 4th - Bristol Botanic Garden
April 10th - Glasgow Botanic Garden
RBG Kew / BGCI International Diploma on Botanic Garden Education, a five week course covering everything needed to develop education strategies for a site. The next session is running 15th September – 17th October 2008 at Kew.
Growing Schools – a UK government funded initiative that will showcase the range of partnerships and activities that schools can get involved in to better engage children with nature.
SAPS Plant Science Image Database (PSID) comprises a selection of images each with an explanatory text. This new resource for teachers mainly for secondary sector is available on the web.
'Expedition China!' - a new schools programme being developed by Royal Botanic Garden, Edinburgh which highlights growing worldwide concern about biodiversity and conservation in a context which encourages young people to bridge Chinese language and culture to learn more about the issues in the global environment.
Pea Pods – Plants for Under-5s - a very successful under-5s programme run this summer by Royal Botanic Garden, Edinburgh
The Role of Gardening in Education for Biodiversity – Emily Wood, Education Officer at RBG Edinburgh has recently completed her MSc dissertation bringing together research on the benefits of gardening and of learning about biodiversity and ecological systems. For more details email Emily (e.wood@rbge.ac.uk).
'Happy Families' – To celebrate the life of Linnaeus, the Chelsea Physic Garden has produced a plant families version of this traditional game.
Growing Schools' Garden – an award winning garden will open in the spring of 2008 in its new and permanent home at the Birmingham Botanical Gardens. The aim of the garden is to show how learning can take place outside the classroom within the school grounds
Plant Scientists Investigate - PLANTSCAFE is a joint EU project with partners in Innsbruck (Austria), Sofia (Bulgaria), Trento (Italy), RBG, Kew and the Institute of Education (UK). Five project partners have worked together to develop primary school resources that will enhance plant science education and encourage skills such as critical thinking. New teachers' and botanic garden educators' resource will be available free online and will be launched in December 2007. Please visit www.plantscafe.net
For further information, please visit the BGEN website, www.bgen.org.uk