Paleoecologists inter-situ Plan to Curb Island Extinctions
HAWAII, USA
28 November 2007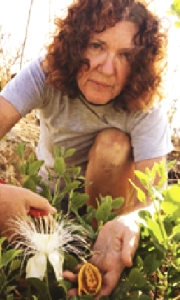 Lida Pigott Burney collecting
native caper seeds (Capparis
sandwichiana) at the
Makauwahi Cave Reserve
Image © paper in
The Ecological Society of America
Courtesy Alec Burney
David Burney at the National Tropical Botanical Garden, Hawaii, and colleague Lida Piggott Burney of the Makauwahi Cave Reserve, Kalaheo, have been examining human-caused extinctions on the Hawaiian island of Kauai.
The devastating effects of human colonisation on islands are well known. Island histories reveal that hunting and landscape changes caused by humans each play a key role, but many of the extinctions seen on islands are probably from introduced predators, herbivores, plants, and diseases. And it's still happening today.
The pair have been able to use their studies to come up with a plan to rewrite history.
Extinction Capital of the US
The researchers say Hawaii's environment, what they call the "extinction capital of the U.S.," is worsening for most species, and conservationists need to take bold steps to curb the dire situation created by humans, new diseases and natural disasters.
Conventional conservation tactics focus on both restoring organisms in the wild as well as using zoos, botanical gardens and genetic banks.
However, these tactics aren't working well. Of 540 extinct plants and animals in the U.S., nearly half of them were in Hawaii. Half of the estimated 1,209 native Hawaiian plants are at risk of extinction or have already died out.
Mix the Methods, Improve the Results
The scientists propose that conservationists try inter-situ conservation — the establishment of species by reintroduction to locations where they died out some time ago.

This method would then closely manage the area using the techniques of zoos and botanical gardens.
The Makauwahi Cave Reserve on Kauai's dry South Shore could act as a pilot for the inter-situ approach, since the area, which is home to some native species, could be ecologically restored by removing alien vegetation and replacing it with native plants.
In the report, which was published in this month's issue of the journal Frontiers in Ecology and the Environment, the researchers address present-day conservationists, with a challenge to try out this new approach.

"The history of conservation on Kauai and elsewhere may show that conservationists bold enough to surf the current extinction wave managed to bring some species back from the brink ".

"Until then, restoration paleoecology may encourage conservationists to cast the widest safety net conceivable for species that are otherwise slipping away," the report concluded.
Find out more on the National Tropical Botanical Garden website

About David Burney --- About Lida Piggott Burney
Article Reference
Burney DA, Burney LP (2007) Paleoecology and "inter-situ" restoration on Kaua'i, Hawai'i. Frontiers in Ecology and the Environment: Vol. 5, No. 9 pp. 483–490 . Published by Ecological Society of America