Bringing Ecology Home - Quite Literally
CANADA
27 November 2007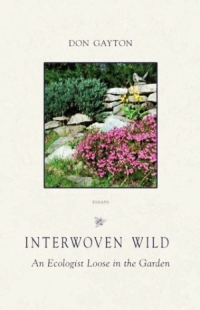 Canadian field ecologist, Don Gayton, brings his wealth of experience to show us how nature and ecology perform their magic right in our gardens and home landscapes. Engaging the reader with real life, and occasionally hilarious, gardening experiences, Gayton marries the joys of gardening to the fascinations of ecology.
In charming and lyrical prose, he explores the inter-reliance of species, soil fertility, weed invasions, and how the rampion got its name. He also speculates on gardeners and their need to landscape, to purchase specialized tools, to use (or shun) chemicals, and the art they bring to the enterprise. By skilfully interweaving the work of painters, writers, and landscape architects, Gayton marks gardening and landscaping as primordial human urges, and the garden as a gift, a celebration, a revelation buried in our collective mythologies.
This is a book for everyone who sees deeper meanings in their gardens and landscapes.

Interwoven Wild: An Ecologist Loose in the Garden
By Don Gayton
SBN 978-1-897235-35-5; paper; $16.95 Cdn 176 pages
Thistledown Press, Saskatoon, Sask. Canada