Vanilla Showcase Funded in Puerto Vallarta
MEXICO
26 November 2007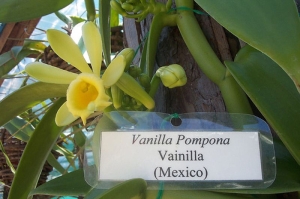 Vanilla pompona and its relatives will soon have a new
home in the dedicated Vanilla Conservatory
The Puerto Vallarta Botanical Gardens has received a generous donation of $25,000 USD from the foundation of George and Mary Ellen Holstein of Chicago, Illinois. This donation will fund the creation and building of a vanilla orchid conservatory. This conservatory will house the botanical garden's extensive collection of Mexican vanilla species.
This 1000 square foot conservatory will be an open-air design featuring interpretive displays showcasing vanilla's unique and important place in Mexico's folklore and history.
The Extraordinary Story of Vanilla
Different species of vanilla orchids are found on every continent except Europe and Antarctica. The vanilla family is a large group of pan-tropical orchids that has a truly fascinating history and is a vital part of our modern life. From its discovery by the Spanish Conquistadores in the ancient courts of the Aztecs, until today, vanilla has made our lives a ittle sweeter, richer, and certainly more delicious.
The story of vanilla will take you to India, Madagascar, Tahiti, and beyond, but the real story of vanilla has it roots in Mexico, where ancient cultures of indigenous people harvested the wild vanilla. Gathering parties hunted through forests, sniffing to find the unmistakable and sweet smell of the ripening vanilla pods. Once gathered, this highly revered and rare forest product, was used in the preparation of beverage delicacies that also contained wild cocoa and chilies. So revered was vanilla, that it was used as currency and its use regulated by strict legal code. Its consumption was reserved for nobility.
The production and cultivation of vanilla today is a time-consuming and labor-intensive undertaking. Many people work to bring a relatively small amount of product to market. Vanilla is the world's most valuable shade-grown crop yet its growers are finding it harder each passing year to carry on the tradition because of ever-increasing production costs.
Vanilla is the world's most popular flavor, surpassing even chocolate and it is widely used in the production of other products-from paints to perfume.
As vanilla consumers we can all appreciate the many wonders of this special and fascinating plant, and is a very important part of the natural history and economics of Mexico.
The New Conservatory
The Holstein families' generous donation will provide for construction of the conservatory and interpretive displays. These educational and cultural displays will provide an exciting opportunity for visitors to Puerto Vallarta, and for local students and residents alike. Construction is slated to begin in December 2007.
OUR FUTURE - CAN YOU HELP FUND THESE IMPORTANT ADDITIONS TO THE GARDENS?
Vanilla House
FUNDED!
The National Orchid Collection of Mexico
Within the next two years, the Vallarta Botanical Gardens will build Mexico's most complete collection of Mexico's native orchid species. This collection will be displayed in a new, world-class observatory.
Trails
Layout and design of a new trail system on a new and undeveloped 6 acre parcel adjoining the Gardens.
A Wedding Chapel
We have received many requests to provide a chapel in the gardens to help meet the many needs of couples planning weddings or commitment ceremonies. Look for a new chapel in 2008!