European Zoos Launch Plant Conservation Network
EUROPE
1 November 2007
A Plant Conservation Network has been set up to form part of EAZA's (European Association of Zoos and Aquaria) Zoo Horticulture Group (EZG). Officially launched at the EZG conference in Zurich, May 2007, the new network aims to:
Promote and encourage participation in relevant plant/habitat conservation activities such as those contained in World Zoo and Aquaria Conservation Strategy, Global Strategy for Plant Conservation, Convention of Biological Diversity and the IUCN Countdown 2010 targets
Help integrate animal and plant conservation and research within zoos.
Assess and add credibility to plant conservation funding applications by setting up a group endorsement procedure. Note: this could be in partnership with other organisations
Network and aid networking between zoos and botanic gardens and other plant conservation organizations, both nationally and internationally.
Promote zoo participation in international plant conservation initiatives such as International Plant Conservation Day.
Maintain an EAZA register of plant conservation projects that could be monitored encouraged, guided towards the realization of CBD (18/07/07).
The network collaborated with BGCI's Suzanne Sharrock and Peter Wyse Jackson, director of Glasnevin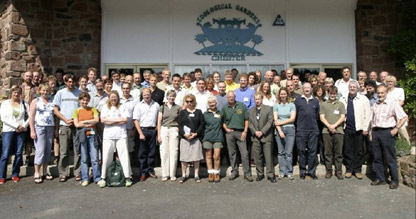 Joint EAZA and BIAZA zoo horticulture conference at Chester Zoo, 2005
Botanic Garden, Dublin to ensure complementarity with the CBD, GSPC and the World Zoo and Aquarium Conservation Strategy.
In the first few months of existence, the network has already achieved a number of key actions:
EZG Horticulture Survey 2007
A snapshot survey was carried out at the Zurich Conference, completed by zoo horticulturists from 31 EAZA zoos, and compiled by Bristol Zoo Gardens. This showed some encouraging activities:
84% of respondents said that plants were interpreted in their zoos
68% said that they have a plant record system
45% said that they grew threatened native plants
52% say that they help protect threatened plant habitats
23% sponsor plant research or botanical surveys
77% of respondents said that they could grow plants to help realise Target 8 of the Global Strategy for Plant Conservation
94% said that they have plans to interpret plants in their zoos in the future.
Many zoos have recently moved towards ecosystem and habitat displays and conservation, in addition to animal species conservation e.g. the Masoala Rainforest exhibition at Zurich zoo or the 2006/7 EAZA Madagascar campaign.
Promoting Plant Conservation Day 18th May 2008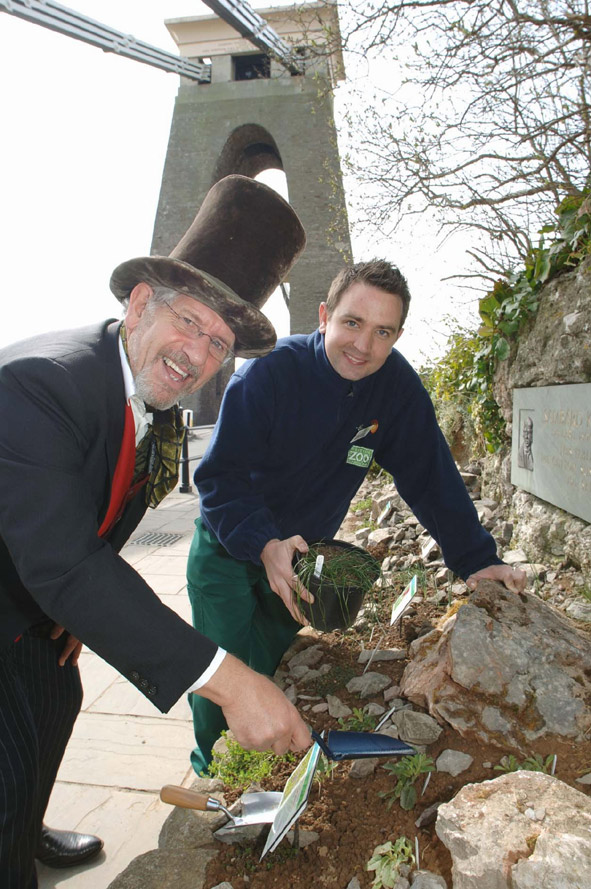 Adam Hart Davis and BZG's Mike Adams put the finishing touches to the Avon Gorge and downs plant exhibit at Bristol Suspension Bridge
The EPCN is encouraging all EAZA zoos to take part in Plant Conservation Day, which occurs annually on May the 18th and provides an opportunity to focus on plants and their importance as part of the web of life. Plant Conservation day is a recent initiative of the Association of Zoological Horticulture and BGCI - find out more at www.plantconservationday.org.
Setting up an EAZA register of plant conservation projects:
The network hopes to use the EAZA Conservation Project Database can be used to log plant conservation work.

What next for the network?
Eddie Mole, curator of horticulture at Bristol Zoo Gardens says "We are already working to achieve our aims at many levels and made a good start on what may become a large project. As the group evolves, some issues will be resolved and new ones will appear so we will need to be dynamic in order to remain effective. In the short term I hope that all EAZA zoos can help us by supporting and encouraging their staff to support Plant Conservation Day. In the longer term I hope that EAZA participation in Plant Conservation Day will grow and that zoos will develop their links with botanic gardens and other plant conservation organizations and increase their capacity to do plant and animal conservation work. Plant Conservation Day has already been promoted in the UK and Germany through their zoo horticulture groups and has been well received so we must now wait and see if we get the positive results that we hope for."

EPCN steering group:
Edwin Mole/Bristol (Chair)
Zsigmond Vince/Budapest
Mark Sparrow/Chester
Martin Bauert/Zurich
Sergio Pacinotti (Alborg/EZG Chairman)
Co-opted Members: Suzanne Sharrock (BGCI), Pierre Gay (ECC).
Article by: Edwin Mole MCMI DHE Cert. Arb
Curator of horticulture
Bristol Zoo Gardens
Clifton
Bristol
BS8 3HA