Training opportunity in botanic garden education
GLOBAL
1 November 2007
Call for applications for the 2008 International Diploma in Botanic Garden Education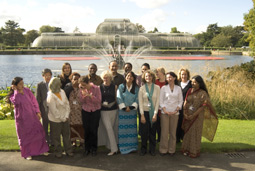 Participants on the 2006 course came from 12 institutions in 11 different countries

BGCI is joining forces with Royal Botanic Gardens, Kew, to run the International Diploma in Botanic Garden Education for botanic garden staff from Monday 15th September – Friday 17th October 2008. The course aims to equip participants with skills and strategies to communicate effectively with their varied audiences. The emphasis of the course is on interactive learning and the application of skills to the participants' working context.

The course programme includes input from guest speakers from a wide variety of institutions and background and field trips and visits to some of the UK's top museums and gardens running educational programmes. A busy work and social programme means that participants have plenty of opportunity to exchange ideas and experiences with each other.

By the end of the course, participants will have an understanding of all the aspects required to create educational strategies for their site, with topics studied including:
An overview of teaching and learning in botanic gardens
An exploration of the history and development of education for sustainable development, including environmental education.
Identification of target groups, including informal and formal audiences
Interpretation – principals and practice
Life long learning strategies – working with teachers, school children, adults and communities
Marketing
Intellectual and physical access to sites
Fundraising
Monitoring and evaluation
Networking, partnerships and collaboration
Strategic planning
Project management
Individual project work
The four-week taught module is followed by a one-week project based module. Participants put their learning into action by completing and submitting a project within four months of completing the course. The project provides a practical focus for the taught element and acts as a basis for the application of skills and knowledge obtained from the course
Have a look at the website for more information, to download an application form (word or PDF) and to read some testimonials from previous years' students.
Applications should be sent in as soon as possible to be ensure a place – the final date for accepting applications is 30th June 2008. The final deadline for applications to the scholarship programme is 31st January 2008.