Plants and Palermo - 102nd Meeting of the Italian Botanical Society
ITALY
29 October 2007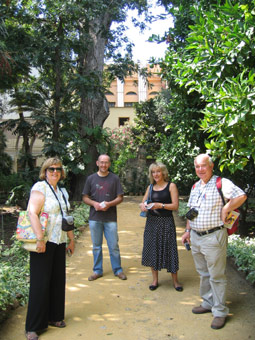 Margaret Johnson, David Aplin, Sara Oldfield and Adil Guner, participants at the 102nd Italian Botanical Society meeting
BGCI Secretary General, Sara Oldfield called for the greater involvement of botanic gardens in tackling climate change at the 102nd meeting of the Italian Botanical Society, held in Palermo, Sicily earlier this month. Her introductory presentation set the tone for a fascinating and challenging series of talks on the status of botany, plants and botanical gardens in Italy and further afield.
Dr David Rae, from the Royal Botanic Gardens, Edinburgh provided a fascinating insight into work the garden is doing to review the landscape strategy at their sites – to reinvigorate routes through sites and positively impact on the visitor experience. Dr Rae also outlined Edinburgh's updated catalogue of plants and collection policy – allowing the garden to demonstrate use every plant in their collection for conservation, research, education and aesthetic purposes. The policy also allows the garden to maintain the focus of its collections and ensure they remain useful and relevant for their purpose.
Dr David Aplin, from the National Botanic Gardens of Belgium presented an excellent critique of some botanic garden practices, calling for a review of both the indices seminum (seed lists) and of gardens' current plant collections for conservation. He called for an increased flow of accession information between collections using indices seminum and the elimination of invasive species from the lists entirely. Dr Aplin also made a convincing argument for why every botanical garden should undertake a comprehensive review of their collections to identify whether they are in fact meeting their conservation goals through their collections. NBG Belgium undertook a recent review of their extensive succulent collection; an investigation with Dr Nigel Taylor and David Hunt revealed that, of their 2500 accessions within 1,600 taxa, propagated in 5 houses, "two-thirds of the collection could be thrown away with no loss in conservation or research value".
Other interesting presentations included that from Adil Guner, of Nezahat Gokyijit Botanic Garden, Istanbul,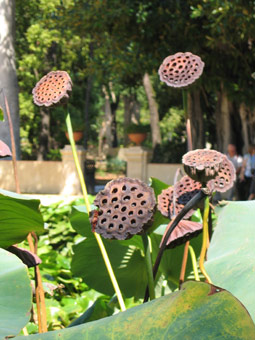 Water plants in the Palermo Botanic Garden, Sicily
Turkey, providing an overview of this remarkable botanic garden, flourishing both with its collections, conservation work and education programme, within a motorway slip road. Prof. Elsa Cappelleti, the director of the University of Padua botanic garden, the oldest botanic garden in the world, presented the garden's plans for an exciting expansion and development, including new glasshouses and exhibition space.
Sarah Kneebone, BGCI's education officer, talked about the findings of the recent global survey of botanic garden education provision and gave some highlights of garden education programmes from around the world, including the Eden Project, RBG Melbourne's new Ian Potter Foundation Children's Garden and the Fairchild Challenge from Fairchild Tropical Botanic Garden, Miami, Florida.
Details of the conference programme are available at the society's website.