Are Indices Seminum Really Worth the Effort?
BOTANIC GARDENS
29 October 2007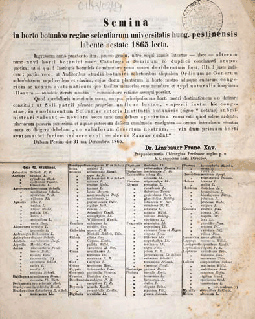 A seed list of 1865. Credit: Meise Botanic Garden

Research published this week in Sibbaldia, The Royal Botanic Garden Edinburgh's Journal of Botanic Garden Horticulture, has highlighted some startling conclusions about the 500 year old practice of distributing seeds through botanical lists.

With increased awareness about the serious threats to global plant life, David Aplin and Jan Rammeloo from the National Botanic Garden of Belgium (Meise) and Simon Linington from Kew's Millennium Seed Bank, decided to turn the pages of indices seminum to see whether they could be regarded as a useful tool for plant conservation.

Work was inspired after the 'Are botanic gardens doing enough for conservation in Europe?' meeting held at Meise in December 2006 and presented at the third Global Botanic Gardens Congress, Wuhan, China during May.

The overriding conclusion was that in terms of conservation, this traditional practice was "a waste of resources offering little conservation merit, with some lists offering highly invasive species that significantly increase the threats to plant diversity".

The work concentrated on two main areas: the kinds of taxa offered; and the associated information relating to the accessions offered.
Taxa offered
Worrying seeds of some of the world's most aggressive plant species can be found listed for open distribution.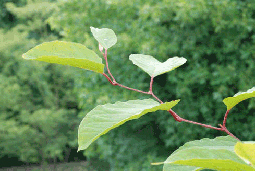 Highly invasive, but on the lists: Fallopia japonica. Credit: Meise Botanic Garden

Dr David Aplin who led the research said: "I was staggered to find invasive taxa like Fallopia japonica, Rhondodendron ponticum and Heracleum mantegazzianum offered. These species have already been proven to significantly reduce native biodiversity. In addition, other botanic gardens are leading the development of action plans to reduce their spread, so openly offer them is counterintuitive".

Investigations also highlighted that extremely common species such as Plantago major, known to be one of the world's most widely distributed plants seems to needlessly occur in 28% of all seed lists with half the accessions offered being gathered from gardens rather than nature.
Associated information
The information recorded and maintained about plants is what puts the word botanic into our institutes' names. In the past countless researchers have highlighted that conservation and research initiatives have been compromised due to poor record keeping. With this in mind you might expect the flow of information about seed accessions between institutes to be good. Research showed the opposite was in fact true.
Despite excellent accession information often being available, in practically all cases it was neither requested by recipient institutes nor offered by donor gardens. A survey of seed bank managers revealed that less than 1% of people requesting seeds ask for additional information about the seed material like collecting location.
"Again, this is incredible because many institutes go to great efforts and expense to carefully record information at the seed collection site. This effort is entirely wasted if the flow of information fails to occur when seeds are distributed. It must be of paramount responsibility to request and offer all data referring to the accession" highlighted Dr Aplin.
The paper concludes with nine recommendations for botanic gardens to transform this long-held tradition and modernise it before rising costs destine it to the same fate as some of our most beautiful plant species, extinction.
Sibbaldia
The latest issue of Sibbaldia, Journal of Botanic Garden Horticulture highlights a guest essay written by Kingsley Dixon, Director of Science at Kings Park and Botanic Garden, Perth, Australia on the science–living collections continuum in botanic gardens. The history and development of Dawyck Botanic Garden near Peebles in Scotland, the cultivation of the titan arum (Amorphothalus titanium) in Bonn and thirteen other essays related to curation, cultivation and conservation, mostly with colour photographs and illustrations.

Price: £10 + £1.80 p&p (UK)
Available 1 October 2007 from: Publications Dept, Royal Botanic Garden Edinburgh,
20A Inverleith Row, Edinburgh, EH3 5LR
Tel: +44 (0)131 248 2991
Fax: +44 (0)131 248 2827
Email: pps@rbge.org.uk
Subscription prices available on request
Article by: Dr David Aplin
Responsible for Science & Horticulture [Glasshouse Collections]
National Botanic Garden of Belgium
Domein van Bouchout
B-1860 Meise
Belgium