Mexican Botanic Gardens Grow Plants Agenda
MEXICO
17 October 2007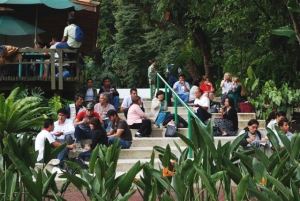 As part of the celebration of its 30th anniversary, last 11th to 14th September, the Francisco Javier Clavijero Botanic Garden hosted an International Symposium entitled "Botanic Gardens Collections within the Global Strategy for Plant Conservation, Are We Ready for 2010?"
Also into this context took place the 20th National Botanic Gardens Meeting, and the First Meeting of the Coordinating Committee of the National Strategy for Plant Conservation, which brought together the most important governmental, non-governmental and academic agencies of the subject of Mexico, aimed to develop the national policy for Mexican plant diversity conservation. Of course, the work done by the Mexican botanic gardens was widely recognized and incorporated into the Committee's agenda.
With the enthusiastic support of the authorities of the Instituto de Ecología, A.C., the Colloquium had the participation of prominent personalities from botanic gardens all over the world, such as Sara Oldfield, Secretary General of BGCI, Joyce Maschinski, from Fairchild Tropical Botanic Garden, Antoní Aguilella, President of the Ibero Macaronesian Association of Botanic Gardens from Spain and Sergio Bruni, Chairman of the Brazilian Network of Botanic Gardens. Other lectures were presented by Javier Caballero and Teresa Cabrera, Scientific Secretary and President of the Asociación Mexicana de Jardines Botánicos, A.C.
Through this series of conferences, the attendants -all of them colleagues from the Mexican botanic gardens- had a chance to listen and learn about the different ways in which botanic gardens in other regions of the world are working and developing their living plants collections, and how the work made by Mexican botanic gardens is inserted as part of a major effort targeted to plant knowledge and conservation, and of course for human well-being.
In addition, the four lecturers participated in the meeting to the Academic Committee of the Clavijero Botanic Garden for giving suggestions for enhance the garden's work. It was established to review and update the garden's strategic plan.
Finally, the photographic exhibition "Plants for life, Mexican botanic gardens protect for the future" was also opened for public. This exhibition was developed by the Asociación Mexicana de Jardines Botánicos, A.C. with the support of BGCI through Investing in Nature Programme.