Sustainable Sites in Botanic Garden's Sights
USA
17 October 2007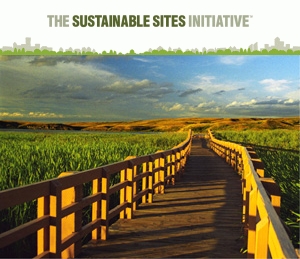 A new scheme has been launched to measure the sustainability of new landscape projects.
The Sustainable Sites Initiative is an interdisciplinary partnership between the American Society of Landscape Architects, the Lady Bird Johnson Wildflower Center, the United States Botanic Garden and a diverse group of stakeholder organizations to develop guidelines and standards for landscape sustainability.
The motivation behind this initiative stems from the desire to protect and enhance the ability of landscapes to provide services such as climate regulation, clean air and water, and improved quality of life.
The scheme is a cooperative effort with the intention of supplementing existing green building and landscape guidelines as well as becoming a stand-alone tool for site sustainability.
The Missing Piece of the Susutainable Building Puzzle
Just as the U.S. Green Building Council's LEED® rating system measures a building's environmental impact, the Sites Initiative will measure the sustainability of designed landscapes of all types, including public, commercial and residential projects. The U.S. Green Building Council is lending its support to this project and plans to adopt the Sustainable Sites metrics into its LEED® system once they are finished.
Holly Shimizu, executive director of the U.S. Botanic Garden, said: "We recognize that through partnerships and collaborations we can make a much greater impact on promoting and guiding sustainable design, implementation and management of gardens, landscapes and all outdoor spaces. This initiative will help balance the built and natural environments for the long-term health of communities nationwide."
"We are acutely aware that the best guidelines and standards in the world will not be adopted if they are not cost-effective for builders and landowners," said Frederick R. Steiner, FASLA, dean of The University of Texas at Austin School of Architecture and a member of the Wildflower Center Advisory Council. "Sustainable landscapes have enormous environmental benefits, and any additional costs should be easily recovered over the life of the project in energy, water and other savings."
"This will provide the missing link for green building standards," said Nancy Somerville, executive vice president and CEO of ASLA. "Developers, designers, owners and public officials will now have the tools at hand to significantly increase sustainability in the built environment, from interiors to landscapes."
Sustainability Starts Here with New Website
A website has been launched with the project, http://www.sustainablesites.org, where you can get information on how to ensure your site design is going to be sustainable. It gives guidelines topics such as water conservation, incorporating native species and avoiding invasives, and including food plants in the design to enhance human well-being.
Over the next 18 months, three reports will be produced. The first of these, the Prelimiary Draft Report, will be available for download from the website from November 1st. The purpose of this report is to introduce the public to the Sustainable Sites Initiative and its current investigations into soils, hydrology, vegetation, materials and human services.