Great Botanic Gardens of the World
BGCI
2 October 2007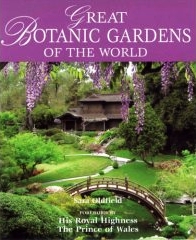 Produced in association with Botanic Gardens Conservation International (BGCI), Great Botanic Gardens of the World is the definitive guide to the vital work and spectacular beauty of the world's Botanic Gardens.
Written by world-renowned botanist and plant conservationist, Sara Oldfield and with a Foreword by His Royal Highness the Prince of Wales, this lavishly illustrated book explores the rich and varied history of botanic gardens and the fundamental role they play in fields of environmental education, scientific research and plant conservation.
Not only do these gardens contain stunning displays of trees, shrubs and plants which are often rare in horticulture, but they also provide living laboratories for botanical research and are increasingly vital in conserving species under threat in the wild.
From the sweeping vistas of Kew, to the sacred grounds of Kahuna, Hawaii, the book opens up windows onto the work of botanic gardens at the forefront of the battle to save plant species from extinction. Spanning over 50 countries and territories, it reveals the role of these 'botanical arks' play in providing a last refuge for the world's most critically endangered plants.
Charting the history of the earliest Botanic Gardens in renaissance Italy, to their modern work as a global network for research, education and conservation, the book is the first comprehensive record of the work of the world's Botanic Gardens. Delving beneath the popular conception of Botanic Gardens as merely ornamental pleasure gardens, it reveals the pioneering work, inspirational personalities and dramatic histories that underpin these great institutions.
Great Botanic Gardens of the World is a stunning tribute to the role these gardens play in the relationship between people and their environment.
Royalties from the sale of this book will support the work of Botanic Gardens Conservation International in saving endangered plants from extinction.