First Meeting of Botanical Gardens of Chile
CHILE
7 May 2007
Persy Gómez de la Fuente, Forestry Engineer, Botanical Garden of Talca University

Steffen Hahn, Dipl. Eng. Protection of the Environment, Director of the Botanical Garden of Talca University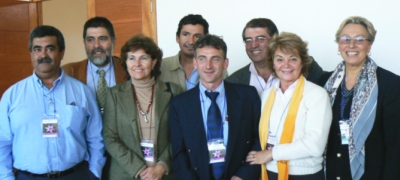 Left to Right: Benito Gómez Silva, Héctor Correa Cepeda,
Antonia Echenique Celis, Pedro León Lobos, Steffen Hahn,
Alberto Gómez Mejía, Ana Maria Molina, Estela Cardeza.
On the third and fourth of May of 2007 in the Campus Lircay of the University of Talca (Talca, Chile) the First Meeting of Botanical Gardens of Chile was held, hosted by the Botanical Garden of this University.
This event was supported with the sponsorship of the University of Talca and under auspices of the Direction of Program of Investigation (DPI) of this University.
The Biotechnology and Vegetable Biology Institute of the University of Talca-Chile, The National Botanical Gardens of Ireland and the Botanical Institute and Botanical Garden of Technical University of Dresden-Germany, participated as coorganizers. Besides it counted with the collaboration of Chagual Botanical Garden, Santiago-Chile.
At this first Chilean Botanical Gardens Meeting under the slogan "Investigation, Conservation and Landscaping" assisted more than two hundred people from different countries (Germany, Colombia, Argentina, Ireland and Italy),within them: academic, researchers, professionals, students and general audience.
The expectatives of this iniciative were to promote a closer collaboration between different public and private gardens of the country, and from abroad. Besides of meeting each other, the idea was to interchange experiences and the searching of improvement of the conservational work ex situ of vegetable species of specific interest or with problems of conservation. All this within the Global Strategy for the Vegetable Conservation (GSPC). Finally one of the main objectives of this meeting was to set the basis for the formation of a Botanical Gardens Net for Chile as a way to stablish links and to increase as an important active group in the country, since the objectives and works are common for all the botanical gardens.
This meeting presented a total of 26 expositions, organized in four modules.
Module 1, The Roll of the Botanical Gardens in the Present Time: Actions and Netting.

Module 2, The Lanscaping in Chile: History, Tendencies and Future Challenges.

Module 3, Conservation ex situ and Restorational Expectatives in situ

Module 4, Investigation of Native Species within the Conservation and Economical Aspects.
Finally as a closing act of the first meeting of the Chilean Botanical Gardens, it was signed the Declaration of Talca, wich in his first paragraph mentions: at Talca University, May 4th of 2007, Botanical Gardens, Chilean Botanist and Naturalists, conscious of the importance of the conservation of our natural patrimony, we have decided to create a Chilean National Net of Botanical Gardens.
Our aim will be to coordinate, to implement and to promote actions in conservation, scientific investigation, environmental education and exhibition of the Chilean Flora.
Agreed with this statement:

Steffen Hahn, Botanical Garden, Director, University of Talca, Talca-Chile
Benito Gómez Silva, Botanical Garden of the Desert, Antofagasta-Chile
Héctor Correa Cepeda, National Botanical Garden, Director, of Viña del Mar-Chile
Antonia Echenique Celis, Ejecutive Director, Chagual Botanical Garden, Santiago-Chile
Pedro León Lobos, Seed Bank, INIA (Instituto Nacional de Investigación Agropecuaria), Vicuña-Chile
Witnesses

Alberto Gómez Mejía, President of Caribbean and Latin american Association of Botanical Gardens, Colombia.
Ana Maria Molina, President of the Botanical Gardens Net of Argentina