Botanic Garden Voted Nation's Favourite
UK
20 September 2007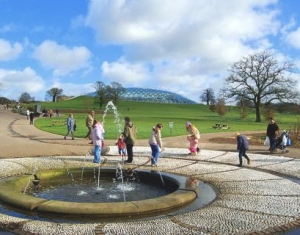 The National Botanic Garden of Wales is officially the UK's favourite Lottery-funded environment project. It was one of more than 640 projects from across the UK to enter the Awards. The Awards are voted for by members of the public and this year a record number of votes were cast - more than 150,000.
It won the prestigious title and a £2,000 cash prize, at the 2007 National Lottery Awards.
Accepting the Best Environment Project award, Kevin Lamb, of the National Botanic Garden of Wales said: "We are absolutely thrilled to win this award and would really like to thank everyone who voted for us. Being on the BBC show and winning the £2,000 will have an amazing impact on everyone at the project. This is a great way for us to thank all those who have been involved and helped us to make the most of our Lottery funding.
"The funding has allowed us to develop and conserve these fantastic gardens which are enjoyed by the whole community."
The Garden in Llanarthne almost closed on St David's Day, 2004, because of serious money troubles and low visitor figures.
But the people running it have managed to turn things around and secure new investment, including the Lottery funding, which has enabled the innovative renovation and restoration of the sixteenth century site.
Its centrepiece, the Great Glasshouse designed by Norman Foster, was recently voted the top Modern Wonder of Wales by readers of the Western Mail newspaper. Lottery funding enabled the restoration of the unique, historic double-walled garden and the stunning Tropical House, which was added this year, boasting a tropical paradise of majestic palms, lilies, blue ginger, bamboo and a thousand orchids.
The Garden helps to increase knowledge and awareness of a variety of plant life within a stunning restored environment. The project is also having a long-term effect on the environment - by educating people and by looking to future conservation on a grand scale.