Botanic Garden Losing Collections to Drought
AUSTRALIA
28 August 2007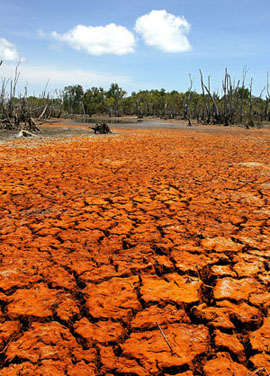 Drought in Australia may be the worst in 1000
years. A national strategy is being developed, as
climate change predictions foretell even worse to
come. Global wheat prices have increased
dramatically this year, affecting prices of meat
and other wheat-dependent markets.
Image from Cosmos Magazine
The 400 hectare Kings Park and Botanical Gardens have lost an estimated 10 to 12 per cent of native sheoaks, banksias and some eucalypts in the park, Botanical Garden and Parks Authority acting chief executive Dr Kingsley Dixon has announced.

A severe drought and the lack of summer rain last year following the driest winter since 1940 has caused the deaths.

"There has been a high death rate in quite old trees," said Dr Dixon. "They include sheoaks, banksias and some eucalypts - some are more than 30 years old.

"It is coincident with the very dry season last year and little summer rain followed by drought conditions this year."

It was of great concern but there was little the authority could do, he added.

The last time there were such sudden tree deaths in the park was 15 years ago.

"There was a sudden death in a range of species but that was attributable to a cold snap early in that year," Dr Dixon said.

"The chances are what we are seeing [now] may have happened in prehistoric or pre-human times, we just don't know."

Watering the natives is simply not feasible, Dr Dixon said.

"It's certainly a big wake-up call but we are not sure what our response can be or should be," he said.

Bureau of Meteorology information officer Nick Holcz said 285.8mm of rain had fallen this year, compared to the normal average of 552mm.

Last year was the driest year since 1940, Mr Holcz said.

Bushland managers were empathising with farmers in WA's wheatbelt who are still desparately hoping for rain.

"Bushland managers have now become weather watchers... we can understand how many farmers feel," Dr Dixon concluded.