MEERA - Making Evaluation Easy
15 August 2007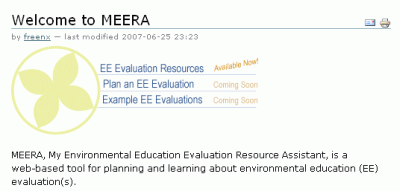 One fascinating paper at the 4th World Environmental Education Congress outlined the development of a unique tool that is sure to come in useful for botanic garden and other educators around the world. BGCI's recent survey on education botanic gardens found that, although educators were carrying out limited evaluation, most sites still were not examining the effectualness of their programmes. The lack of expertise and understanding of putting evaluation into practice has been recognised as a problem for environmental educations the world over (Zint et al 2007).
To address this, a group of researchers and educators in the USA, led by Michaela Zint of the University of Michigan, have developed MEERA; My Environmental Education Evaluation Resource Assistant. This is a web-based tool for planning and learning about environmental education evaluation. Although still under development, MEERA already offers assistance in why and how to conduct evaluation, a series of tools and methods to run your own evaluation, a discussion forum and mailing list, with case studies of evaluation in practice to be included soon.
Have a look at what is already available, and let the team developing MEERA know what you think! This tool seems to be shaping up nicely and should be of enormous benefit to botanic garden education worldwide.