Designer Labels All the Rage at Siit Arboretum and Botanical Garden
PHILIPPINES
15 August 2007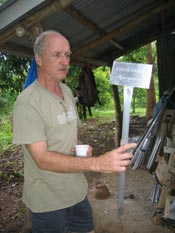 Eric Hanquinet with one of Siit's new plant labels
The plants at Siit Arboretum and botanical garden in the Philippines will have to start behaving themselves now - as they are no longer anonymous! The Arboretum has used a grant from the BGCI-HSBC Investing in Nature fund to produce new aluminium plant labels for its extensive collection of native and exotic trees and plants.
Chair of Siit's council, Eric Hanquinet, said 'These labels are great, very cheap and straightforward to produce and will play an essential role in the education and learning programme at the arboretum'.
The labels are part of a larger programme of work to develop Siit's infrastructure – improvements to the road leading into the arboretum will commence as soon as the rainy season is over. 'Once the road is finished we can welcome far more visitors and schools groups all year round' said Eric, 'At the moment, the road is only passable in the dry season, unless you have a 4x4'.
The arboretum, in Oriental Negros, was set up in 2002 and houses a diverse collection of flora from the Philippines, Africa and Australia, with beautiful cycad, conifer, bamboo and palm collections plus a unique area of nature reserve containing extremely rare native Molave Forest. Siit is currently developing its educational programme to work with local schools and recently hosted a two day BGCI course on guide training and school programme development.