BGCI Welcomes New Staff
UK
11 July 2007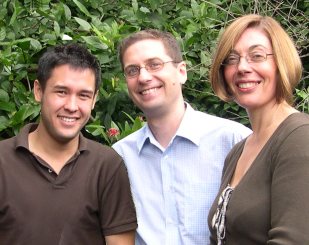 James Wong, Per Bogstad and Sue Malin
are welcomed to BGCI

BGCI is delighted to welcome some new staff who have joined us recently.
Per Bogstad - Communications & Partnerships

Per Bogstad is our new Communications and Partnerships Manager. He will be developing partnerships with companies that enable BGCI to achieve its mission.
"Our success in working with HSBC demonstrates how effective partnership can be in mobilising an organisation to achieve its objectives" says Per. "I am passionate about the role that international business can play in tackling the world's conservation crisis".
Per will also oversee BGCI's communications with its members, stakeholders and partners. "It is important that our communications reflect what we are doing to achieve our mission to save plant biodiversity for the well being of this planet", says Per.
Per was previously at the Royal Botanic Gardens, Kew where he developed partnerships with a number of multinational businesses. Before that, he worked in advertising but, since studying international politics at university, always had an ambition to work for an international organisation focused on solving global problems.
James Wong - Media Relations

BGCI's external communications will be further strengthened with the recruitment of James Wong as Media Relations Officer. Joining BGCI in the newly-created role of Media Relations Officer, James describes his job as "translating hard-core plant science into lively, engaging stories for the press, radio and TV".
Working closely with Per, James is tasked with helping raise the profile of BGCI, as well as botanic gardens, highlighting our vital role in spearheading plant conservation efforts worldwide. Passionate about making plants exciting, fun and relevant, James feels that "all too often botany is seen as rather dull and dusty, but in reality it is probably the most unexplored and directly relevant science to our everyday lives."
Whether it be pitching stories about local plant education projects or launching continent-wide strategies, James is always keen to hear from members about the latest developments in botanic gardens across the world. Please do feel free to contact him if you have a story that could be of interest. You can also visit our Media Centre for more.

Sue Malin - Membership
BGCI is also delighted to now have a dedicated Membership Secretary in place. Sue Malin joins BGCI with the aim of increasing and broadening our membership. "I am very excited about working with people from over 120 countries around the globe and look forward to assisting BGCI's members" says Sue.
In addition to processing new membership requests from botanical gardens and individuals who would like to work with BGCI in securing plant diversity, Sue supports existing members by distributing BGCI's latest publications, issuing membership renewals and responding to the many enquiries BGCI receives.
Although new to the botanic garden world, Sue has previous experience of working for an multi-cultural organisation and is looking forward to working in the environmental sector.