BGCI Presents Climate Change Report to World's Scientific Community
PARIS, FRANCE
3 July 2007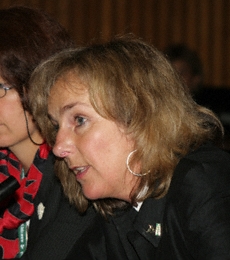 Sara Oldfield speaking at the SBSTTA meeting

At a meeting of leading scientists and international policy makers at UNESCO headquarters in Paris, BGCI today presented the Gran Canaria Declaration II on climate change and plant conservation.
Gathering for the twelfth meeting of the Subsidiary Body on Scientific, Technical and Technological Advice (known as SBSTTA, pronounced 'substa'') of the Convention on Biological Diversity, delegates are meeting to discuss how scientific and technical know-how could enhance the implementation of the Convention on Biological Diversity (CBD).
>Read Daily updates from the SBSTTA Meeting

Rising to the top of their agenda, climate change and its impacts will prove a key theme, as well as an in-depth assessment of the Global Strategy for Plant Conservation (GSPC).
In support of these efforts, BGCI Secretary General, Sara Oldfield, personally presented the Gran Canaria Declaration II on climate change and plant conservation on behalf of BGCI to the world's scientists. The declaration, developed by BGCI and its partners and published in April 2006, assesses the threat that climate change poses for plant biodiversity and draws up guidelines for a global response to the challenges this poses. Studies on the implications of climate change for conservation efforts, such as this are likely to prove indispensable for the future planning of biodiversity use and conservation.
The presentation took place at the side event today, as part of her talk on 'Plant Conservation and Climate Change: Implications and Options for Achieving the Targets of the GSPC', marking the latest move in BGCI's long standing support of the activities of the GSPC.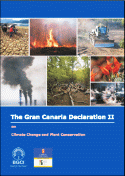 "BGCI's has been intimately involved with the GSPC since its conception," said Sara "and we are delighted that the significant scientific know-how our network offers can prove useful to conservation efforts on a truly global scale".
Working closely with the Secretariat of the CBD, BGCI has played a central role in the development, promotion and implementation of the GSPC since signing an MOU in 2003, including the secondment of a member of its staff.
SBSTTA's recommedations will be addressed at the next meeting of the Conference of the Parties to the Convention, to be held in Bonn, Germany, from 19 to 30 May 2008.

The agenda and documents for the meeting are available at: http://www.cbd.int/sbstta12

Gran Canaria Declaration II - climate change and plant conservation - PDF (5,831KB)
>Read Daily updates from the SBSTTA Meeting