70 Tonne 'Seed' Unveiled at the Eden Project
UK
13 June 2007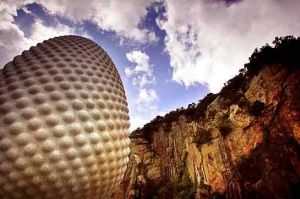 'Seed' sculpture. Image©Marc Hill

The arrival of a mammoth stone sculpture, larger than any sarsen in Stonehenge, marks the official completion of Eden's £15 million education building.
Hewn from a 167-tonne boulder extracted two years ago from De Lank Quarry, Cornwall, the botanically-inspired sculpture known simply as 'Seed' is the result of collaboration between artist Peter Randall-Page, Grimshaw architects of London and the Eden Project.
Standing four metres in height by three metres at its widest point, the massive acorn–shaped artwork took a team of sculptors two years to carve. With concentric spirals encircling the stone in a Fibonacci sequence, the sculpture reflects the distinctive roof of the new centre, which was opened by the Queen in September last year.
The award-winning education facility, known as "the core", lies at the centre of its rule-breaking public education ethos and uses innovative ecological technologies to both practice and preach Eden's environmental mission.
The sculpture was gently lowered through a specially-designed skylight to form the centrepiece of the new building, occupying a central bell-shaped chamber.