Second Mexican Botanic Gardens Day Celebrated in Style
MEXICO
4 June 2007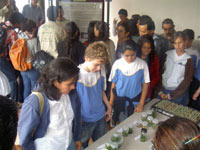 Visitors enjoying science exhibits at the garden. Photo: Orlik Garcia
Visitors to the Francisco Javier Clavijero Botanic Garden, in Xalapa, Mexico were welcomed in style last weekend as part of the garden's 30th anniversary celebrations and National Botanic Garden Day. Garden staff employed a wide variety of educational, artistic and scientific events were employed to communicate the importance of Mexican biodiversity and the vital contribution of scientific centres, such as the botanic garden, for its conservation. A large number of children and adults from schools, families, and professional horticulturists spent the day taking part in the activities.

The garden carried out conferences and exhibitions, with input from researchers of the Instituto de Ecologia, A.C., about plant tissue culture, mushroom culture, the entomologic collection (lots of beetles!!!), soil ecological interactions and earthworms as compost makers. Francisco Javier Clavijero himself, a seventeenth century historian, 'returned' to the garden leading theatrical guided tours, employing visitors in his search for a lost rare orchid.

Complimenting these tours, two horticultural workshops for children and adults explored native orchids and their conservation. Other artistic performances took place over the weekend, including a dance, about the origin of maize culture and, to illustrate traditions linked to plant knowledge, a "Botanic Fandango" with traditional musicians, jaraneros, decimistas, and trovadours.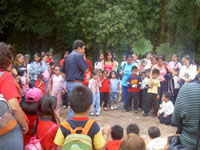 Schools and families at the National Botanic Garden Day. Photo: Francisco Javier Clavijero Botanic Garden
To complete the packed programme, an organic market offered visitors meat, meals, drinks, fruits, bread and so on. This market was also aimed at encouraging citizens to produce and consume sustainable products.
Orlik Gómez García, the new manager of Jardín Botánico Francisco Javier Clavijero said "The weekend was very successful. It was a lot of work, but we feel satisfied. The guided tours by Francisco Javier Clavijero were very funny.".
For more information, contact Orlik:

Biól. Orlik Gómez García
Manager
Jardín Botánico Francisco Javier Clavijero
Instituto de Ecología, A.C.
Km. 2.5 carretera antigua a Coatepec No. 351
91070 Xalapa, Veracruz
México