"Plant a Billion Trees" Campaign Hits Target 7 Months Early
GLOBAL
25 May 2007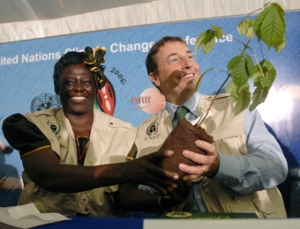 January 2007 marked the launch of a major UN environmental campaign to secure a global pledge to plant 1 billion trees by the end of the year. Less than 5 months on, this target has not only been met, but actually overshot by in excess of 13 million trees, as Senegal and Uganda combine to pledge 50 million tree plantings to the cause.
The campaign, which arose out of the recent UN Climate Change Conference in Nairobi, was created as an innovative response to the increasing threat of global warming, yet its target of 1 billion trees was considered ambitious at the time. Indeed organisers, which also include the Green Belt Movement and the World Agroforestry Centre (ICRAF), have expressed astonishment over the great enthusiasm by which the plan was adopted, with governments, companies, city councils, universities and many thousands of individual 'back yard' tree planters eagerly joining the cause.

Unwilling to rest on their laurels, the organisers have stretched this ambitious plan further, switching its target to converting these pledges into actual tree plantings by the end of 2007.

Ahmed Djoghlaf, Executive Secretary of the UN Convention on Biological Diversity applauded the announcement as a "amazing success", adding that it was "living testimony of the resolve of the international community to redouble efforts to address the…threats of biodiversity loss and climate change."

Dennis Garrity, ICRAF's Director, echoed such views stating that; "It will take nearly 15 years to add another one billion to the human population. But the Billion Tree Campaign has established an extra one billion trees to benefit that billion people in a little over 15 weeks. Describing this achievement as remarkable is an understatement," said Mr. Garrity.

The announcement of the milestone coincides with the International Day for Biodiversity, which highlights the role of climate change as the "new great threat" to global biodiversity.
See how many trees have now been planted since this article was written


Learn more about BGCI's links with Green Belt