Silver Success for BGCI members at the Chelsea Flower Show
CHELSEA, LONDON
24 May 2007
Created from a stunning array of indigenous South African plants, the spectacular floral exhibits were designed to highlight such issues as biodiversity, climate change and sustainable development, at this premier horticultural event.

Amongst the many thousands of visitors from around the world was Her Majesty Queen Elizabeth II and The Prince of Wales, who chatted to the thrilled South African teams, after opening the show often dubbed the "Olympics of Gardening".

In an incredible first-time performance, the City of Durban, who administer the Durban Botanic Garden, scooped up a prestigious silver-gilt medal for their flamboyant display depicting scenes from KwaZulu-Natal's flora, fauna and rich culture. Unashamedly avant-garde, the exhibit of native plants was set around a wire and beaded African animals, a rickshaw, a water feature and a signature aloe plant.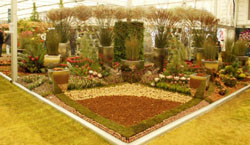 Copyright - David Sandison, Kirstenbosch Botanical gardens
Long-time Chelsea exhibitors, Kirstenbosch National Botanical Gardens, proudly received a silver medal for their 32nd display at Chelsea. Taking its inspiration from 'nature's golden ratio', the Fibonacci spiral, the innovative design by David Davidson and Raymond Hudson used Fybos flora to symbolise the four natural elements – earth, wind, water and fire.

The well-earned success of these botanic gardens at such a high profile event is a fantastic achievement, and contributes significantly to raising awareness of the work of botanic gardens world wide.
Kirstenbosch National Botanical Gardens, Chelsea Article
City of Durban, Chelsea Article
Official RHS Chelsea Flower Show Website