Dan Lutkenhouse 1921-2007
HAWAI'I, USA
23 February 2007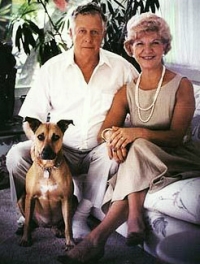 Dan Lutkenhouse with wife Pauline
and dog Fawn. Image © Hawaii
Tropical Botanical Garden
Dan Lutkenhouse, who spent more than $2 million to create the Hawaii Tropical Botanical Garden on the Big Island, died Feb. 12 in Hilo. He was 85.
The Garden was created through the untiring efforts of the former businessman, who discovered Onomea Valley in 1977 while vacationing with his wife, Pauline. He purchased the 17-acre parcel for its seclusion and beauty, without knowing exactly what to do with it. Quickly abandoning ideas for a commercial venture which would destroy the natural environment, he decided instead to establish a botanical garden to preserve the valley and its beauty forever.
Born Daniel James Lutkenhouse to a Cleveland family affluent enough to have a pet monkey, Lutkenhouse ran away from home when he was 14, so broke that he lived on bananas for six days, said former employee Ed Johnston. A private detective brought him home.
He went on to build and eventually sell his 40-year-old trucking business in San Francisco and moved to the island of Hawaii in order to devote himself full time to the development of the Garden.
Pudding Lassiter remembered how her mother, local botany expert Kapua Heuer, would announce Lutkenhouse's arrival at their home. "'Old Blue Eyes' is at the house again. He's asking about flowers again," she would say.
When first located by the Lutkenhouses, Onomea Valley was an overgrown and virtually impenetrable jungle, choked with wild invasive trees, weed and thorn thickets, and strangling vines.
Every day for eight years, Dan, his assistant Terry Takiue, and two helpers worked with cane knives, sickles, picks, shovels, and a chain saw clearing paths through the jungle. All the work was done by hand to avoid disturbing the natural environment or destroying valuable plants and tree roots, and it continued until the Garden opened to the public in 1984.
But almost as fast as Lutkenhouse planted, thieves dug up his ornamentals and sold them to new resorts in West Hawaii, said Johnston.
Lutkenhouse placed razor wire around the garden, stopping thieves but also cutting off shoreline access to fishermen and blocking a historic trail, Johnston said. Later, he built un-permitted stone dams across two streams.
Though Mr. Lutkenhouse had no formal botanical training, with his love of nature he created a living tapestry in keeping with the intimate nature of the site. However, although his actions might have come from Lutkenhouse's strong belief in doing things himself, Johnston, who quit and turned critic, says that with the Sierra Club and others, Johnston filed legal actions that took about four years to settle.
Classes of schoolchildren have free entry into the garden, now a nonprofit corporation.
"He's always had a real generous side to him," Lassiter said.
Mr. Lutkenhouse himself chose the location of every plant and tree introduced to the Garden. From the Lily Lake Vista, more species of plants can be seen in one place than anywhere else on earth. Over 110 species have been counted within this vista, most planted by Mr. Lutkenhouse and his staff. This vivid experience of the tropics was enriched by the plant collecting trips Dan and Pauline Lutkenhouse took to tropical jungles around the world.
Lutkenhouse is survived by wife Pauline, son Dan, daughter Debara Frost, sister Jean Rex, sister-in-law Lois Lutkenhouse and four grandchildren.