Climate Change Observations in Botanic Gardens Around the Globe
GLOBAL
2 March 2007
Early Bloom in Shanghai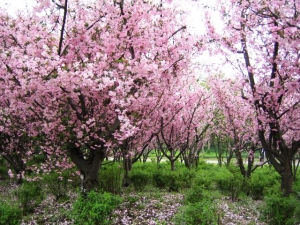 Shanghai Botanic Garden reports that Sakuras and gardenias have bloomed 15 to 20 days ahead of their normal flowering season. This is the second time that such a report has come out the garden.

"It's very rare for such flowers to blossom in February," said Zhao Yingying, an official spokesman for the garden.

Plum blossoms in the garden cannot adapt to the warm weather, so their flowering season has shortened, said Zhao.

The mild winter may not be good for spring flowers, according to Li Xuemei, the garden's director.

"The biological clock of the plants has been disturbed," said Li. "The blooming effect of those flowers that blossom ahead of time may not be satisfactory, and they may wither as soon as a cold front hits the city."

The mild winter has also created problems for the Peach Blossom Festival in Nanhui District, which is held at the end of March or the beginning of April every year.

Precocious Cherries in Brooklyn Attract Extra Winter Visitors
In Japan, cherry blossoms are symbolic of life's transitory nature. But according to the BBG, five of the garden's 220-plus cherry trees Prunus Fudan-Zakura bloomed in January, thus earning their name 'the ever-blooming cherry'.

Ever-blooming cherries normally flower as late as the end of November, but this wintertime surge of blossoming is unusual, starting more than three months prior to the garden's annual Cherry Blossom Festival, Sakura Matsuri, which is scheduled for the weekend of April 28th and 29th.
"The circumstances of weather," created the unusual phenomenon of early blooming, said Patrick Cullina, the vice president of horticulture and facilities at BBG.

"Because it was persistently mild through December," he noted, "it created a scenario where they have bloomed fully for the first time in anyone's memory here."

The cherry blossoms weren't the only early arrivals at the garden. "There are a few things that are certainly early," noted Cullina, "some mild surprises and some large surprises."

Among the latter are two Japanese apricot trees that are in bloom.

"You'd normally expect to see them bloom in April, so to see them bloom at the end of the first week of January is a bit of a surprise."

In addition, early bloomers such as winter jasmine, the evergreen shrub mahonia, witch hazel, crocuses, and two different species of snowdrops have also responded to the generally warmer weather with floral displays for garden strollers.

The early bloom plus the mild weather attracted more visitors than usual to the garden.
Another consequence, according to Cullina, is that those trees and plants that have already bloomed are unlikely to do so again this year, short of a few buds here and there that did not open this time around.
But, Cullina stressed that the early blossoming of five cherry trees, "No way inhibits the cherry mania that takes place here in spring." Thanks to over 200 other cherry trees that have not blossomed early, "We are still anticipating an April display," Cullina added.

New York Records Many Species Blooming Early
With weeks of abnormally warm weather, there are colorful surprises in flower at the New York Botanical Garden. In place of the barren or snow-covered landscapes commonly associated with January, snowdrops, witch-hazels, grape-holly, Dawn fragrant viburnum, camellias, winter honeysuckle, and Japanese apricot are all in flower.
Some are quite showy, including the lush rose-colored flowers of camellia 'Spring's Promise', the exuberant yellow sprays of grape-holly, and certain witch-hazels and viburnums. In addition, daffodils emerged from the ground and certain trees, shrubs, and herbaceous plants came into leaf.
Some of the plants reported as flowering in January at the New York Botanical Garden were:

Ajania (Ajania pacifica)
Baby's breath spirea (Spiraea thunbergii)
Candytuft (Iberis sempervirens)
Daffodil (Narcissus 'Rijnveld's Early Sensation')
Viburnum (Viburnum x bodnantense 'Dawn')
Hellebore (Helleborus 'Early Purple', Helleborus niger)
Giant snowdrop (Galanthus elwesii)
Grape-holly (Mahonia)
Japanese apricot (Prunus mume 'Peggy Clarke')
Japanese camellia (Camellia japonica 'Spring's Promise', 'April Tryst')
Periwinkle (Vinca minor)
Rosemary (Rosmarinus officinalis)
Snowdrop (Galanthus nivalis) - some were finished in January
Spring and autumn flowering cherry (Prunus subhirtella 'Autumnalis')
Winter honeysuckle (Lonicera fragrantissima)
Winter jasmine (Jasminum nudiflorum)
Witch-hazel (Hamamelis x intermedia 'Jelena', Hamamelis x intermedia 'Orange Peel', Hamamelis vernalis, and Hamamelis mollis)

Experimental "Global Warming" Garden
Signs of spring are in many places across the New York Botanical Garden's 250 acres, but nowhere are they more in evidence than in the Garden's experimental Ladies Border on the southeast side of the landmark Enid A. Haupt Conservatory.
The border, dubbed the "global warming garden" by the staff, was designed and planted more than four years ago by Lynden B. Miller and others who wanted to test the hardiness of plants generally considered too tender to thrive this far north.
It features plants not typically found in the Garden's geographical zone and allows the Garden to test the hardiness of plants and to expand the wide diversity of its plant collections. Lynden Miller says that it is intended "to stretch people's imaginations" about what they can grow in this region.

It tests conventional horticultural wisdom by observing which plants can be grown and how different plants handle changing weather conditions. Since the new redesign, plants have endured drought as well both severe and mild winters. The border is a living, evolving experiment, with different plants tried out, successful ones transplanted into the Garden's other gardens, and new plants brought in.

Camellias, grape-hollies, and Japanese apricot are among the highlights of the Ladies Border, as are several thriving crape myrtles and even a Himalayan fan palm. Many of these plants are among the ones breaking into flower and/or leaf in the current warm spell.

The Botanical Garden is also testing the hardiness of conifers among the plantings in the Benenson Ornamental Conifers. Cultivars of the cedar of Lebanon and Deodar cedar, considered marginally hardy in New York City, have thrived since the collection opened in 2004. Five weeping giant sequoias, also not considered hardy in New York, have survived near the entrance pavilions for nearly five years

Same Phenomenon Reported in Chicago
The Chicago Botanic Garden also reported that thanks to higher than normal temperatures, the crocus and the snowdrop arrived four months early.
Staff at the Chicago Botanic Garden have recorded blooms of plants every two weeks since 1997. Before this, snowdrops' earliest flowering came around March 1 in 1999, 2000 and last year they reported the earliest ever flowering - but this year its even earlier.

"[This is] very unusual" said Boyce Tanskersley, a horticulturalist at the Garden who keeps plant records. "Imagine our surprise when we come back from the holiday vacations and we check our spots and expect to see some buds and instead we see them actually in flower. It's very, very exciting."
Kris Bachtell, head of collections at the Morton Arboretum, says there'll be no problem for native species like Oaks which have evolved for a wide ranging Midwest climate.

"It's more of a problem for imports like ornamental cherries and pears, but only if there's prolonged warmth, then severe cold", he says.

So What Do We Do About It?
Policymakers need to give more attention to adaptation policies to cope with climate-related impacts, regardless of their cause, argue Roger Pielke and colleagues in a recent article in Nature.

The UN Framework Convention on Climate Change (UNFCCC) pushes mitigation policies, thinking adaptation is only necessary because of climate change associated with rising greenhouse gas emissions.

But there are non-climate factors — such as rapid population growth along coastlines — that make a far more important contribution to people's vulnerability to climate events.

For example, groundwater extraction and subsequent land subsidence in the Philippines has increased the risk of floods more than rising sea levels associated with climate change.

One reason for their absence in climate policies may be the lack of a high-profile international body to promote the broad benefits of adaptation strategies.
The authors say that unless adaptation strategies are given as much attention and investment as other policies promoted by the UNFCCC, the effects of climatic events on vulnerable societies will continue to rise no matter how much greenhouse gas emissions are cut.
More articles on this topic: