Wangari Maathai Inspires 100's at BGCI 20th Anniversary Event
LONDON, UK
9 February 2007
Wangari Maathai presented A Force for Change and a Vision of Hope on February 8th to start BGCI's 20th Anniversary Celebrations.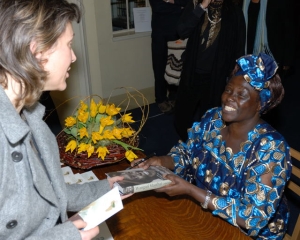 Professor Maathai spoke of how she became involved 30 years ago in the grass roots activism that has culminated in a political career taking her across the world, investigating the ways in which all people can play a part in improving and restoring the planet's diversity. Her stories and reminiscences showed how plant diversity, knowledge, culture, identity and taking responsibility interplay with each other. She communicated how everyone, even if you are small as a hummingbird, has an important part to play in creating a better world.
Sara Oldfield made a brief presentation on the achievements of BGCI and botanic gardens in the past 20 years and introducing Professor Maathai.
An engaging and entertaining speaker, Professor Maathai inspired a varied and distinguished audience of over 300 people, many of whom had the chance to meet Wangari as she signed copies of her autobiography.
Baroness Joan Walmsley, Chair of BGCI's Board of Directors, thanked the Professor after she took some questions from the audience. She said she now felt like a hummingbird 'doing the best it can' and was much happier and inspired after hearing her speak than when she arrived earlier.
The talk was followed by a book-signing session and many people were able to meet Professor Maathai and discuss their ideas as she signed copies of her autobiography 'Unbowed'.
Many new connections and ideas were also initiated in the bar, and several people were heard saying they were going to be hummingbirds from now on.
You can find out more - and support BGCI - by reading Professor Maathai's autobiography through Amazon.
You can also read Sarah Kneebone's account of the evening on the BGCI Education Blog