New Year, New Botanic Gardens
GLOBAL
9 January 2007
OMAN
The Sultanate of Oman is currently planning to establish a botanic garden that will be at the forefront of the world's botanical institutions. As such, it will "ensure that the flora of Oman is valued by all and will become an ambitious combination of world class botanic conservation and research facility and major educational and leisure destination".

The Oman Botanic Reserve is to be established on a 425 hectare site near Muscat. The flora of Oman will be displayed as natural habitats, including those of both northern and southern Oman that will need to be grown in especially designed conservatories. Incorporating the Arabic culture of Oman it will be a unique and extremely important tourism and conservation project for the Middle East.

The Masterplan for the project has just been completed by an international consultant and detailed design will be awarded shortly. BGCI is also working with the project as an advisor.
The project are also recruiting so take a look at the Opportunities page if you'd like the chance to work on the new Omani garden.
USA
In South Carolina, a botanical garden and retreat center are being built at an old Naval Base as part of a redevelopment plan.

The Naval Base, once the industrial heart of the South Carolina Lowcountry, closed 12 years ago. The state Budget and Control Board last month approved $10.3 million in state bonds to help fund Clemson's Restoration Institute, which is to focus on environmental science, materials technology and urban redevelopment.

The Noisette Co. has been working with the city on a $1 billion, 20-year effort to revitalize 3,000 acres in North Charleston's urban core, including land at the base.

A conference center will be created by restoring officers' grand homes which have been submitted for designation as historic sites.

The gardens around them were originally laid out by the firm of landscape architect Frederick Law Olmstead, who designed New York's Central Park, Knott said.

The gardens, conference center, waterfront park and the larger Noisette Preserve of undeveloped woods and wetlands will draw visitors. So will a maritime museum which, among other exhibits, will house the historic Hunley submarine.
*****************************************************************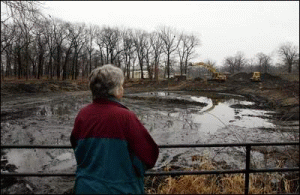 Meanwhile in Indiana, a project begun by Elkhart Rotary Club is cultivating big ambitions. The site for a new garden is currently a park. Half of the 36 acre site is covered with water ponds that affect the city of Elkhart's water supply.

The purpose of the ponds is to spread out the water over a larger surface so more of it can filter back into the ground. They also provide pressure on the underground aquifer so more water can be pumped out of it in the summer.

Local people and companies have been donating time and resources to help get the work done. Local volunteers have been taking fish to another park so that the ponds could be excavated. Niblock Excavating, of Bristol, donated the actual excavation work. Vim Recycling, of Goshen and Elkhart, removed much undergrowth that was in the way - for free.

Wightman Petrie, a company that has several offices in the area, donated the engineering. And Thornton Gardens of Elkhart planted the island for free.

An English garden is also planned, along with a garden near the city's water tanks that will include signs explaining the wellfield and its purpose. An event garden designed to accommodate events attended by up to 1,000 people is expected to open in 2008. Those running the project would like to see all the gardens finished by 2015, but that depends on how quickly donations come in.

The organisers' dream is to build a world-class botanical garden on a par with the Chicago Botanic Garden and Meijer Gardens in Grand Rapids. They are hoping to attract up to 150,000 visitors a year when it's finished. .If you are looking for escort geneve look at this site. You can find here many girls from all over Europe!
***********************************************************************
Meanwhile 215 acres of pristine forest in the Osage Hills is set to be transformed into a botanic garden as a mark of celebration for Oklahoma's 100th anniversary. In its wild state, it's known to botanists as "The Cross Timbers."
Currently a wild area of woodland known as the "Cross Timbers", the plan is to make a garden to help people understand and learn about the plants around them.
Dr Ron Tyrl of Oklahoma State University, said: "The idea is someone can walk through the woods and know and understand what they're seeing and why they're seeing it"

The development will be based on a trail first forged by Oklahoma Settlers.

Pat Woodrum of Oklahoma Botanical Garden added: "One of the beauties about this particular botanical garden is that we will have all of the natural area left intact along with the planted garden"

The garden should be finished in three to five years.