English Starfruit in Last Ditch Rescue Attempt
UK
4 December 2006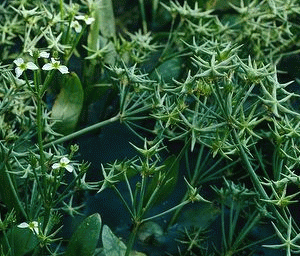 Read more about Damasonium alisma on the Arkive website
Image © Richard Manuel/www.osfimages.com
Damasonium alisma, or Starfruit, classified as Endangered and a priority species on the UK Government's Biodiversity Action Plan, has almost disappeared in Britain. A group of conservationists are making a last ditch attempt to establish a population at Greenham Common in Berkshire.
Named for its star-shaped fruit, this pretty, aquatic flower has been hanging on at a handful of sites in southeast England for the last decade. However this year, not a single plant appeared in the wild, meaning that Starfruit could be facing a very real chance of becoming extinct.

The main cause of Starfruit's decline, and the main threat to its future, is the disappearance of ponds in the countryside, particularly in pastures where cattle trample the mud as they drink.

On Tuesday 28th November, conservationists from Royal Botanic Gardens, Kew, UK charities Plantlife and Natural England, and the West Berkshire Council began to create an entirely new population of Starfruit at a nature reserve on Greenham Common. Financial support for the project is coming from Natural England for Plantlife's Back from the Brink conservation programme.
For many, Greenham Common is synonymous with the Cold War and the peace protests against the American Cruise Missiles sited at the former airbase in the 1980s. Today, a series of ponds has been created on the old runway and cattle now graze the site tranquilly. Andy Phillips, Reserve warden for West Berkshire Council says, "West Berkshire Council are excited at the opportunity to have such a rare plant growing on Greenham Common. The restoration of the common has created a series of muddy pools that the livestock use for drinking and wallowing in. Although these are new, the hope is that they will mimic the habitat that Starfruit requires."

The Starfruit seedlings and seed, which the conservationists will plant below the surface of the ponds, come from the Millennium Seed Bank. Share your ideas at https://presentational.ly
Simon Linington from Kew Gardens told us, "Much of the material originated from seed put into the Millennium Seed Bank a number of years ago under a programme sponsored by Natural England. Its use by Plantlife and Natural England demonstrates the value of seed banks in helping to underwrite and re-establish our declining wild plant species"

Dominic Price from Plantlife added, "Starfruit is one of the rarest plants in the UK – and one we are in real danger of losing forever. This project offers a genuine hope for the survival of this species in the UK".