Are Botanic Gardens Doing Enough for Conservation?
EUROPE
4 December 2006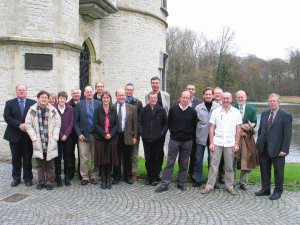 From Dr. Dave Aplin, National Botanic Garden of Belgium

'Are botanic gardens doing enough for conservation in Europe?' That was the question discussed by an ad hoc group drawn from major European institutes and organisations involved in plant conservation at a meeting held at the National Botanic Garden of Belgium on 1st December, 2006. The aim was to determine how botanic gardens can significantly aid European plant conservation and support the sustainability of wild plant populations.
Unprecedented Threats, Untapped Potential
Europe is home to more botanical institutes than any other continent, while almost one quarter of its native 12,500 species are currently under threat, and 800 risk global extinction. (See for example our recent story about Damasomium alisma). Europe's flora faces more unprecedented threats through climate change and other human-related activities than ever before. According to extensively documented predictions changes could be swift, habitat and species loss great. Urgent action is required.
Are botanic gardens rising to this challenge?
We Need to Win Support

Delegates discussed, in detail, the problem of funding. Finances will certainly be vital in safeguarding our native plant life. However, despite politicians powerfully highlighting their concern for environmental sustainability in the Millennium Declaration this has not translated into funds for practically tackling species loss.
The potential strength of the botanical community, however, should put us in a position to proactively influence policy makers and funding bodies. Some considerable milestones could actually be achieved at relatively little cost, for example a European-wide 'Red List' of threatened taxa, a crucial baseline inventory, to direct conservation effort could be achieved for as little as GBP£20,000.
Botanic Gardens Can Also Make Changes

It was also highlighted that most gardens could help halt the loss of native plant diversity, without extra funding, by shifting emphasis on what they already do. It was proposed that the evaluation of some traditional practices, such as the maintenance of ill-defined plant collections and Index Semina comprising of garden-gathered seed, could be reappraised and efforts channelled more directly at conservation.
Capturing Horticultural Knowledge
Delegates discussed in detail the unique wealth of knowledge in botanic gardens and especially how to cultivate plants. Botanical horticulture could play an important role researching how to grow threatened species 'beyond the seed bank', understanding a taxa's environmental constraints, reproductive biology and interactions with mycorrhizas or other organisms that will ultimately aid reintroductions, and reinforcements of species in the wild. Unfortunately, much of this knowledge is in the heads' of its gardeners and it is therefore vital to 'download' it and make it widely available.
Networking to Share Knowledge and Experience
A few countries in Europe already have an active conservation network involving botanic gardens. However, there is often little awareness of each other. An 'umbrella' European Conservation Network linking the in situ and ex situ community would significantly aid capacity building by sharing techniques and minimum standards. A Network would enable swift communication of advances in theory and practice, enabling small and less well funded countries and gardens to play significant roles.
Taking Immediate Action
Despite conversations focusing on European plants, it was evident that discussions were also entirely applicable to the global scale. It is anticipated that over the next few months work will focus on achieving a fundable European network proposal. This will significantly enhance the actions, targets and goals of the GSPC and other initiatives and aid the halting the loss of native plant diversity in Europe. Watch this space.