Pack Your Bags for "Planet Plant!"
UNITED STATES
1 June 2006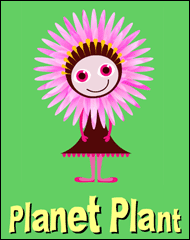 A new plant conservation website from BGCI (U.S.) for kids ages 9-12 has launched! Visit Planet Plant (www.planetplant.org) and check out online and offline art, science, outdoor and botanic garden activities that will get kids excited about the importance of plants. A new featured plant with a great conservation story is being added every month. For the April launch of the site, Planet Plant "Explorers" learned all about the carnivorous pitcher plant.

First-time visitors to Planet Plant receive an overview of the featured plant's basic biology, habitat, ecosystem role, and conservation status. They also learn about ways they can get involved in plant conservation. Science projects encourage kids to carry out experiments using the scientific method and then share those results with other website users online. Kids also share art projects, book reviews and the results of outdoor exploration activities. A structured activity to carry out at a botanic garden is also included every month, and for those visitors without a botanic garden in close proximity, a "virtual" botanic garden exploration activity is offered.

A strong incentive for Planet Plant Explorers is the accumulation of Explorer Points. By completing activities each month, kids earn Explorer Points to be redeemed for cool Planet Plant gear including bookmarks and t-shirts. The total Explorer Points earned by all visitors to the site are also being added together in a "Points for the Planet" program. When the total of all Explorer Points reaches a certain level, BGCI (U.S.) will donate $1,000 to a plant conservation project chosen by Planet Plant Explorers.

"Before they even enter high school, 80% of kids today have already ruled out a future career that involves science," says Brian Johnson, Education Officer for BGCI (U.S.). "Planet Plant is designed to get young kids excited about science and the importance of plants through engaging, hands-on activities."

For more information, visit www.planetplant.org.