Virtual Botanic Garden Launched in Dublin
IRELAND
31 May 2006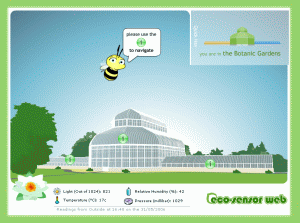 A flying bee takes visitors round a virtual version of the
National Botanic Gardens, Glasnevin

The Eco-Sensor Network at the National Botanic Gardens in Dublin was officially launched today by Aoibhinn Ní Shúilleabháin, the Rose of Tralee and Ambassador of the Discover Science & Engineering Programme.
The launch saw the culmination of four year's work by researchers at the NCSR to develop the sensor network to its current reliable standard and extend the reach of the project by introducing a hands-on primary school programme.
Researchers from the National Centre for Sensor Research developed mini-weather stations to keep an eye on conditions inside the Great Palm House, the Cactus House and the Orchid House at the Botanic Gardens. Each of the tiny "mote" sensor-boards has sensors to monitor temperature, humidity, light levels, atmospheric pressure and oxygen levels in the air.
The network of sensors sends real-time environmental data to the interactive website, Eco-Sensor Web.

There's more to eco-sensor web than just live data and dynamic graphs! The designers worked closely with staff at the National Botanic Gardens to gather exciting botanical information. If you have ever wondered where bananas grow, or how a cactus survives in the desert, you can find out on the new site. Inside eco-sensor web visitors can discover all about the plants that are growing in the glasshouses in the Botanic Gardens. Visitors can also take a themed tour through the glasshouses to learn how people use plants, how different plants have adapted to where they live and what's being done to protect and conserve threatened plant populations.
To top it all off there's a bank of hands-on activities for users to try in the classroom or at home.